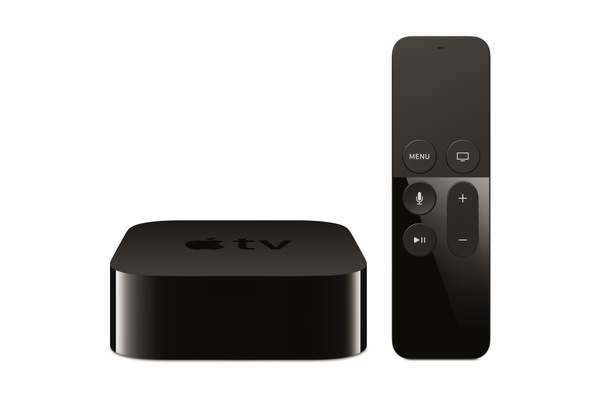 Apple is pursuing your living room again with the first major hardware and software revamp of the Apple TV since 2012.
The new Apple TV device (which just looks slightly bigger on the outside) will run on a new operating system called tvOS, which is based on iOS. Apple will provide the tvOS SDK to enable developers to utilize the increased power under the hood, and especially the considerable remote control upgrade.
The Siri Remote improves how you can select, scroll and navigate through your favorite content using a glass touch surface that handles both small, accurate movements as well as big, sweeping ones. It features a built-in accelerometer and gyroscope which developers can use to create motion-controlled apps and games.
With its internal mic, the Siri Remote can be used to search TV shows and movies by title, genre, cast, crew, rating or popularity using your voice, and Apple TV now supports Universal Search like Microsoft's Xbox services, meaning you won't have to know which content is available from which app beforehand.
Viewers will also be able to use voice commands during playback, such as asking "Siri, what did he say?", which will prompt the playback to skip back a few seconds and enable captions.
Apple upgraded the Apple TV in 2012 to support 1080p video output, and since there was no word of a 4K upgrade today we can only assume it's not happening yet.
Under the hood, Apple TV is powered with an A8 chip. The Siri Remote uses Bluetooth 4.0 and apparently will last for up to three months on a charge. When totally out of juice, it can be recharged using the Lightning plug.
So when is it available and how much does it cost? The new Apple TV will be available from October in more than eighty countries, available with 32GB or 64GB storage, priced at $149 and $199, respectively.
Written by: James Delahunty @ 9 Sep 2015 18:00