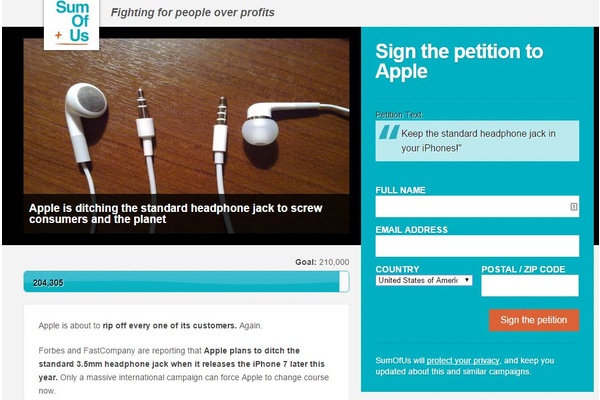 Over the past few weeks, there have been more and more reports concluding that Apple is set to get rid of the standard 3.5mm headphone jack from its upcoming iPhones.
By removing the port, it is expected that Apple can make the iPhone a tiny bit slimmer and, of course, they can boost their own bottom line as the new headphones will have to connect either wirelessly or via the proprietary Lightning port.
Apple fans are not happy about the rumored move (possibly because they already own expensive Beats headphones with a standard 3.5mm jack and have petitioned to stop Apple from dumping the connector.
The petition has 227,000 signers as of writing. That is a large figure given that the iPhone 7 is, at least, six months away from even being announced, but a tiny figure compared to the 100 million-plus iPhones the company is expected to sell in 2016.
If accurate, this would not be the first time Apple has double-dipped on its own customers. In 2012, the company got rid of its old proprietary 30-pin connector and replaced everything with the Lightning connector. Anybody who upgraded their phones and tablets then had to buy new charging cables and USB connectors.
Source:
Sum of Us Petition
Written by: Andre Yoskowitz @ 9 Jan 2016 10:20