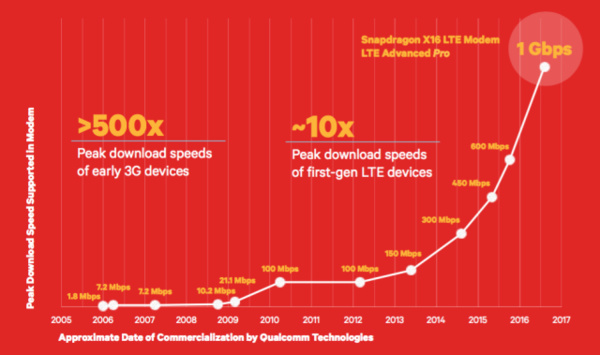 Qualcomm has announced its latest chip, the Snapdragon X16, which boasts Category 16 LTE download speeds of up to 1 gigabit per second.
High-end phones today can hit 450Mbps (theoretically) and the upcoming Snapdragon 820 can touch 600Mpbs. Because sharing is caring, the X16 can also support 150Mbps upload speeds.
"The Snapdragon X16 LTE modem is designed to reach Gigabit Class LTE speeds using the same amount of spectrum as Category 9 LTE devices. By using carrier aggregation and 4x4 MIMO, the Snapdragon X16 LTE modem can receive 10 unique streams of data using only three 20 MHz carriers. Its support for 256-QAM boosts the peak throughput of each stream from ~75 Mbps to ~100 Mbps, with additional gains possible with modem data compression,"
reads the company's press release.
A full Snapdragon SoC with an X16 LTE modem integrated is expected early next year.
Source:
Ars
Written by: Andre Yoskowitz @ 13 Feb 2016 17:03