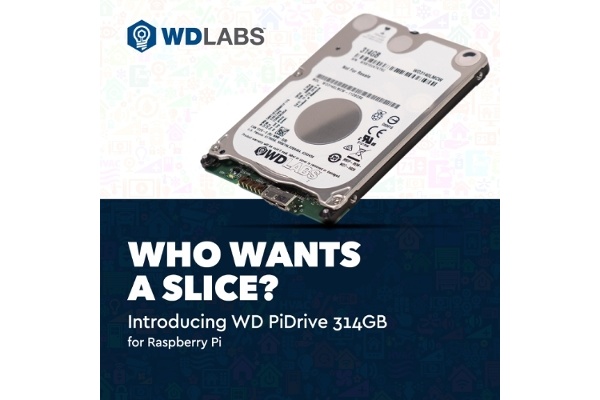 Western Digital has cleverly released a 314GB PiDrive this week, a hard drive built for the Raspberry Pi micro computer.
"Adoption of Raspberry Pi computing devices is expanding at a tremendous rate, reaching eight million units in about four years. However, the millions of Raspberry Pi users are finding limitations from data storage devices (SD card, USB hard drive or cloud storage) originally designed for other applications,"
said Dave Chew, chief engineer, WDLabs.
"The WD PiDrive 314 GB HDD is designed to support Raspberry Pi growth by addressing barriers to hard drive adoption such as affordability, power loading and system set-up. In addition, we've maintained the key strengths of hard drive technology, including mass-storage value, high data integrity and reliability."
Raspberry foundation CEO Eben Upton was happy with the release, as well.
"With the extended capabilities of Raspberry Pi 3, we can't wait to see what new projects our community comes up with. WD PiDrive 314GB gives our members a low-cost, purpose-built hard drive solution that helps them develop even more innovative and unique ways to use Raspberry Pi."
WD says the company has customized the hard drive's "magnetic recording and electrical system operating set-points to align with Raspberry Pi's USB data and power design to reduce the electrical power load of the hard drive on Raspberry Pi, while still maintaining sufficient performance to deliver maximum USB data transfer rate." Theoretically, this makes the drive ideal for the device.
Additionally, the company is including BerryBoot, a free software solution for booting different operating systems.
The company is also selling the drive at a pretty cheap price, $31.42, although it will nearly double the price of the Raspberry Pi.
Source:
Western Digital
Written by: Andre Yoskowitz @ 14 Mar 2016 23:26