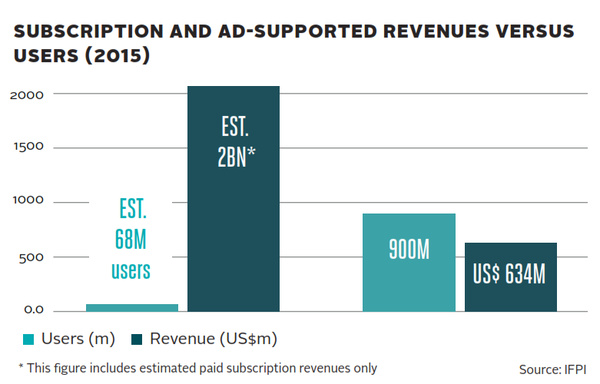 Peter Mensch, who has managed many huge acts including Metallica, Muse, Snow Patrol and more, described YouTube as 'the devil' to
BBC Radio Four
.
Mensch argued on the programme that the model offered by YouTube to artists (placing ads around their music content) was unsustainable.
"If someone doesn't do something about YouTube, we're screwed,"
he said.
"It's over. Someone turn off the lights."
His comments channel the findings of an IFPI report which warned about a widening value gap between the volume of music consumed on YouTube, SoundCloud and other user-upload services, and the amount of revenue generated as a result. Specifically, it it estimated that 900 million consumers on those sites generated around $634 million for the music industry last year, whereas 68 million subscribers of paid services generated around $2 billion.
Defending itself, YouTube says it has paid out over $3 billion to the music industry, though it didn't provide a timeframe. YouTube Chief Business Officer Robert Kyncl responded to Peter Mensch's comments by citing agreements artists have with record companies, and how their income compares to those who are signed up directly with YouTube and paid directly.
"The artists who are signed up directly with YouTube are seeing great returns,"
he said.
"Not everybody - but if you're generating a lot of viewership, you're making a lot of money."
As an example he cited artist Lindsey Stirling, who is set up directly with YouTube and has more than 7.8 million subscribers. Last year, Stirling made more than $6 million from the service.
Source:
BBC News
See Also:
IFPI Global Music Report 2016
Written by: James Delahunty @ 19 Apr 2016 2:39