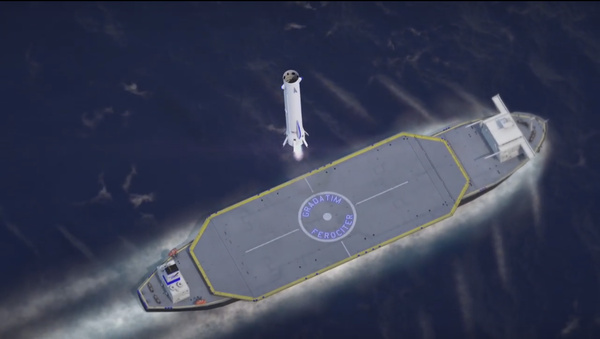 Jeff Bezos' Blue Origin rocket launch provider has released an animation showing how its two-stage New Glenn rocket will launch, land and deploy a payload.
The animation comes after Bezos showed off the first BE-4 rocket engine to be fabricated and also announced that the launch provider had secured its first New Glenn customer, French media and communications firm Eutelsat.
The animation shows the two stage version of the New Glenn vehicle (there is also a three stage vehicle on the board) that will fly sometime around 2020, and will be capable of delivering roughly ~45 tons to low-earth orbit, or ~13 tons to geostationary orbit.
The animation shows what the landing of the booster stage of the rocket will look like at sea, with Bezos saying earlier that it is designed for up to 100 reuses. Visually, the landing is very similar to what we have seen SpaceX pull off with the Falcon 9 rocket, though the New Glenn will be a vastly more powerful rocket.
New Glenn (named for John Glenn, the first U.S. astronaut to orbit the Earth) will have plenty of competition in the years after its maiden launch, such as SpaceX' Falcon Heavy rocket which will be capable of delivering roughly ~53 tons to low Earth Orbit, or NASA's Space Launch System (SLS) which will boast 70 tons to LEO.
Watch the animation here.
Written by: James Delahunty @ 7 Mar 2017 13:19