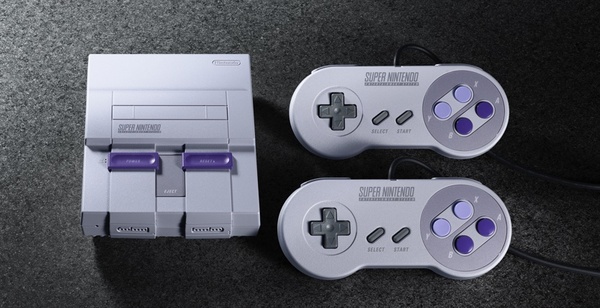 Nintendo of America has confirmed that it will launch the SNES Classic this year with two controllers and 21 built-in games.
The inclusion of two controllers is notable as last year's NES Classic only came with one, and among its list of classic games for the Super Nintendo Entertainment System (released in the U.S. in August, 1991) is the unreleased Star Fox 2.
SNES Classic will be available in the United States from Setpember 29, with an $80 price tag. Outside the U.S., the same mini-console will be released but come in the Super Famicon styling.
The 21 included games are Super Mario World, Super Mario Kart, Super Mario RPG: Legend of the Seven Stars, The Legend of Zelda: A Link to the Past, F-Zero, Super Metroid, Street Fighter II Turbo: Hyper Fighting, Super Punch-Out, Super Castlevania IV, Donkey Kong Country, Mega Man X, Kirby Super Star, Final Fantasy III, Kirby's Dream Course, Star Fox, Yoshi's Island, Contra III: The Alien Wars, Secret of Mana, EarthBound, Super Ghouls 'n Ghosts and Star Fox 2.
Super Mario World, Earthbound, Star Fox 2 + 18 more games? Now you're playing with super power! #SNESClassic launches 9/29. pic.twitter.com/BPPGjpskPT

-- Nintendo of America (@NintendoAmerica) June 26, 2017
Written by: James Delahunty @ 26 Jun 2017 12:43