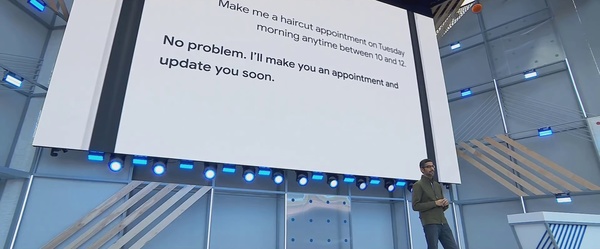 Google Duplex enables Googles Assistant to make phone calls and book appointments, make reservations and more.
Sundar Pichai, chief executive of Google, said that it will launch as an experiment over the coming weeks. It will make phone calls in the background at the request of user's to book appointments, make reservations and more. To accomplish this task, the Google Assistant need to interact with humans over the phone and hold a seemingly natural conservation.
Pre-recorded demonstrations were shown at the Google IO conference today showing how natural the AI voice sounded, prompting some gasps from the audience. Rather than sounding robotic and artificial, the AI voice even uttered "um" and "um-humm" making the conversation appear natural.
At no point does the Assistant reveal itself as AI.
Here's a video showing the upcoming feature in action making an appointment for a haircut:
Written by: James Delahunty @ 8 May 2018 19:38