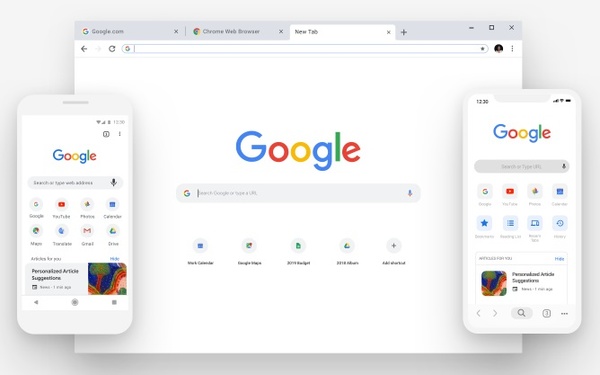 Google's Chrome browser turned ten years old this past weekend, and Google is celebrating by revamping the browsers appearance and beefing it up.
New appearances for Chrome will be present across Desktop, Android and iOS. On all three, immediately evident is more rounded shapes, new icons and a new color palette. The shape of tabs has been changed so that website icons are more prominent for easier identification and switching.
On iOS, the toolbar has been relocated to the bottom of the screen. Prompts, menus and more have also been changed a bit on all platforms.
On the productivity and security side, Google Chrome now has stronger password manager functionality. Chrome can now more accurately pre-load your passwords, addresses, credit card information and so forth. This sensitive info is synced to your Google account. Chrome also will now generate a super-strong password for you when you sign up to a new website and keep the strong password in your account. This is to enhanced your security by discouraging the use of the same password for multiple services.
Another big change is to the Chrome search / url bar, which is called Omnibox. From now on, the Omnibox will display answwers to queries right in the suggestions. Searching for a website in the Omnibox that is already open in a tab will produce a "jump to tab" feature, which is wonderful news for tab hoarders.
Under the hood, Chrome has recently introduced more security features to tackle malware and malicious advertising, while also pushing HTTPS websites and warning unencrypted connections. Site isolation was also introduced a few months ago to tackle complex threats like Spectre.
More info:
www.blog.google
Written by: James Delahunty @ 4 Sep 2018 20:00