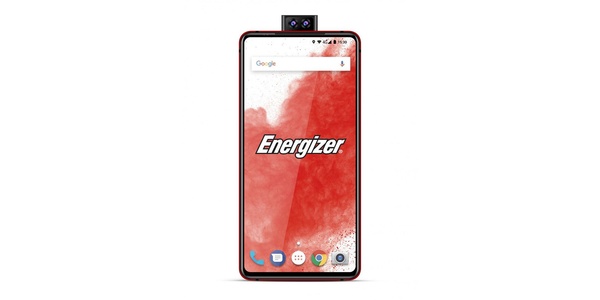 Battery tech has been one of the limiting forces of smartphones for ages. Performance could be better and definitely battery life could increase massively, if someone came up with a new battery innovation.
Meanwhile, we're doomed to one, if lucky two, day battery life on our smartphones with 3000 or maybe 4000 milliamp hour batteries. Well, Energizer doesn't believe so, as they've done with the myth that a smartphone needs to be sleek third-inch thick device.
The battery company has showed off a phone that has six times the capacity of a normal smartphone. Power Max P18K Pop, quite the name, has a 18,000 millliamp hour battery.
Once you see the device, you realize that they haven't come up with any new solutions really, they've just put inside a six times bigger battery.
It's not quite six times thicker, but at 18 mm (around 0.7 inches) it's certainly one of thicker phones we've seen since the 90s.
Surely there are people, perhaps people that can't charge their phones for days and need them for work, who need the most impressive battery life, but it's hard to understand why you wouldn't just have an external powerbank with you.
Anyways, Energizer promises a weeks battery life but remember that you can't refill this battery while you are showering, you need a good eight hours to recharge it entirely.
Everyone: We don't care about thinness, just give us a bigger battery!

Energizer: Hold my beer https://t.co/yLkOduSedI pic.twitter.com/X5MVeIAtIH

-- Enrique V (@rickyvtech) 25. helmikuuta 2019
Written by: Matti Robinson @ 27 Feb 2019 8:01