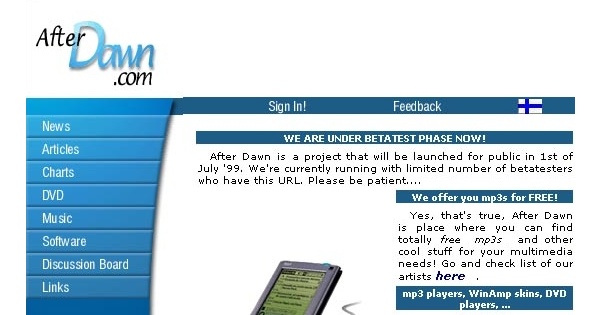 In our article series, we're digging into AfterDawn's news archive and looking what happened exactly 20 years ago. This article series also celebrates
AfterDawn's 20th anniversary
.
So, lets see what kinds of news we wrote back in July, 1999. I'd like to remind you, our readers, that back then, AfterDawn was strictly focused on digital audio and video technologies and reporting events in those genres. More generic "all about tech" arrived to our site much later.
Software update: Winamp
One of our core news reporting areas back in the day was to report about major a/v software updates. And one of the most note-worthy of those was definitely
Winamp
and its
Winamp v2.24 update back in July, 1999
.
Back then, Winamp was - by far - the most popular music player software in the world. It was light-weight, supported all the music formats available back then and most of all, it was extremely customizable.
But Winamp's story from those haydays to the modern times has been a bumpy, interesting - and bit sad. Software was originally developed by a small company called
Nullsoft
and, originally, by its founder,
Justin Frankel
. Entire Nullsoft was sold to
AOL
at the beginning of June, 1999 - just before AfterDawn was launched - for a whopping $400 million.
Here, one needs to remember that AOL was a giant of the Intenet back then. Besides their own dial-up service, they also controlled a good share of the online content and were truly at the same kind of scale as, say,
Google
is in modern online world.
After the acquisition, AOL poured money and resources to the Winamp's development and software got better and better over the next year or so. But as the
dot-com crash
hit, AOL was soon in deep financial trouble. And yes, those troubles affected Nullsoft too. Furthermore, AOL never really managed to squeeze money out of Winamp - at least not in a way that would've justified the original $400M buying price.
Thus, AOL stopped pouring resources to Winamp project, hindering its development. After the Nullsoft lost its status within AOL, many of the original Nullsoft team members started to leave the company. In 2003, the original founder, Justin Frankel was still working for AOL/Nullsoft, but as he
released his own file-sharing app, called WASTE
, without AOL's authorization, the bond was broken. File sharing was a taboo term back in those days, with music industry still fighting against tech world - and AOL trying to build its own content business, that also included online music services. Eventually,
Frankel left the company at the beginning of the year 2004
.
After all the original developers gone, Winamp's development slowed down and pretty much died over the next decade or so. Finally, in 2013,
AOL announced that it will officially cease the Winamp development process for good
and stops offering Winamp downloads.
Years passed, but after series of acquisitions, mergers and various other twists, Winamp found a new home at Belgian streaming company,
Radionomy
. Radionomy kickstarted the Winamp development again and
released the first new version in ages back in autumn 2018
.
As of now, that release -
Winamp v5.8 beta
- is still the latest version available. But Radionomy has publicly announced that they plan to release Winamp v6 in 2019.
20 years later, the need for a MP3 player software has pretty much vanished, as online music services have taken over. One could say that
Spotify
now commands the same kind of status among music players as Winamp once did.
Acquisition: Customize.org
It is very hard to explain to kids nowadays, how important aspect of PC usage the ability to customize your day-to-day tools and software items was, back in late '90s.
But man, it was. Many people chose their Windows software based on how easily one could customize its look and feel. And by this, it wasn't about ability to choose between a "dark theme" and "light theme", but instead, to be able to redesign the entire user interface to match your own personal taste.
In this area, Winamp was the king. The little MP3 player allowed people to customize its entire design. And people did. The so-called "skins", theme packs for Winamp, were widely available - thousands, if not tens of thousands of those.
And yes, they were so popular that there were several websites that were solely focused on distributing ready-made skins for Winamp
(and other apps)
.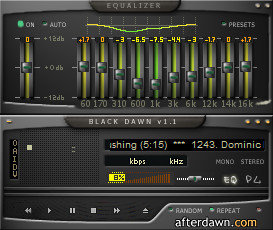 Black Dawn v1.1 - one of the AfterDawn's official Winamp skins back then
The biggest one of those sites was called
Cuztomize.org
. And one of our July, 1999 news was how
Customize.org was sold to a company called Rare Medium Group
.
20 years is a long, long time. And as of now, Customize.org isn't working. It simply shows the default PHP test page when you access the site. But according to archive.org, the site managed to make it until 2018, still focusing on custom themes for software and desktop.
Software update: Sonique
To give another angle to the customization story, we cannot skip the most important rival of the Winamp,
Sonique
. We reported this MP3 player's
update to Sonique v1.05
back in July, 1999.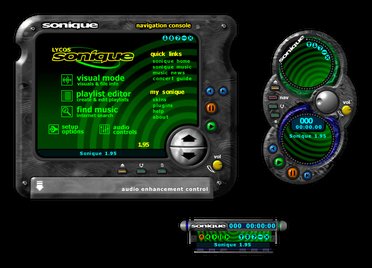 Sonique v1.95, with its default look
And why is Sonique worth mentioning? As stated, the era of late 1990s was also the era of desktop customization, with software developers allowing, even encouraging, users to customize their tools. And with this regard, Sonique was the top dog. Sure, Winamp et al allowed users to change all the graphics and visuals of the players, but Sonique took all this a step further: even the shape of the player could be completely customized. Yup, if you wanted to have a circular MP3 player, you could have it - and it would work just fine within Windows OS. This level of app customization is something that is pretty rare, even 20 years later.
We think that the deep-level customization was one of the key elements why Sonique quickly became the number one contender to Winamp. And just like Winamp, Sonique, too, was bought by a (then) Internet giant.
Lycos
, one of the leading Internet companies back then
(their search engine was one of the most popular ones)
bought Sonique shortly after its release for $38.8 million.
And, again, just like with Winamp, the story turned sad pretty quickly. Lycos itself was bought out by
Terra Networks
in early 2000s, just before the dot-com bubble burst. And once the bubble did burst, the merged company was in deep trouble and had to
fire almost all Sonique developers in mid-2001.

Unlike Winamp, Sonique didn't make it. TerraLycos developers did produce handful of public betas of Sonique 2, but the last official stable release was the 2001 released
Sonique v1.96
. And yes, you can
download it from AfterDawn's software section
and see if it works with modern Windows or not :-)
AfterDawn in July, 1999
Unfortunately, some of our recorded history has been lost during these past 20 years. The very first months of AfterDawn's history has been somewhat wiped off: we don't have our usage statistics anywhere to be found from those precious first months. But to summarize it, our site was slowly finding its focus and gaining some traction.
But to be honest, the traffic we got back then must've been something that nowadays could be achieved with a modestly popular blog. Our ambitions were much higher than that, of course. Having built a website that wasn't just about news articles, but more about "everything from the topic we cover", including software downloads, guides, tips and tricks and more.
And we were kinda right - after all, most of the companies and technologies we covered back then, have disappeared. But our site is still kicking. Sure, the ride hasn't been all that smooth, but, darn, it has been interesting one, nonetheless. And yeah, our
kids
have reached adulthood, too by now.
Yes, many other things happened in July, 1999, too:
MP3.com IPO
, plethora of new portable MP3 players
(physical devices)
, etc. If you're curious to know more, visit our
archives for 07/1999
.
And if you're interested, the previous flashback article can be found here:
What happened in tech news back in June, 1999
Written by: Petteri Pyyny @ 31 Jul 2019 11:00