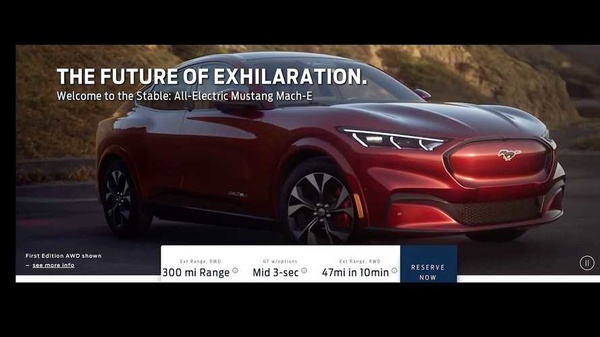 Tesla's success with electric vehicles shouldn't be a surprise to anyone at this point. Traditional automakers have been concocting their own recipes for years now to beat Tesla at its own game, but no challenger has yet been really worthy.
Even the recently announced Porsche Taycan Turbo S isn't going to cut it, after all with all its impressive performance and Porsche prestige it is nearly $200,000.
One is waiting for a proper competitor in the sub-$50,000 segment from the likes of Volkswagen or Toyota. Or Ford.
Indeed, Ford is now ready to announced its sporty electric vehicle. Mustang Mach-E seems to be the most direct competitor to Tesla from a old-school car giant.
The official release party is held in couple of days but we've got some leaked imagery of the futuristic Mustang.
MachEForum
managed to acquire screenshots from the official website that was launched pre-maturely and pulled after the leak.
While it's undeniably a Ford, and a Mustang, there are some changes in the design which could be considered EV features. There's no grill up front since there's no engine to cool down, and there are no exhausts because it doesn't pollute – no at least in the similar fashion as gas cars.
You can also spot a panoramic roof like in some Teslas.
In addition to the design of the car, and at least one red paint job, the website revealed some of the car's specs.
Depending on the model you can expect up to 300 mile range, 0 to 60 in mid-3 to mid-6 seconds, and either RWD or AWD. Prices start at $43,895 and go up to over $60,000 for the top of the line GT model. Mach-E comes in Select, Premium, California Rt. 1, GT, and First Edition versions.
To see the official unveiling of the new Mach-E, bookmark the YouTube broadcast below.
Written by: Matti Vähäkainu @ 16 Nov 2019 10:47