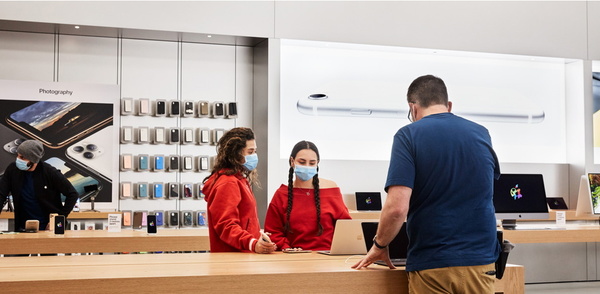 Apple is reopening more of its stores in the U.S. and Canada but it taking extra precautions to slow the spread of the novel coronavirus as the COVID-19 pandemic continues.
The Cupertino giant had closed all of its Apple stores worldwide in April as the world responded to a wave of COVID-19 cases. Now that the pandemic seems to be slowing in many places, Apple is responding in line with local circumstances and orders in reopening its retail stores.
According to reports,
25 stores are reopening
next in California, Washington, Florida, Colorado, Hawaii and Oklahoma. However, it is not business as usual. For starters, all staff at the stores will be wearing face masks and all customers are expected to wear masks or face coverings too. If customers do not have a mask, they will be provided with one.
Additionally, customers may have their temperature checked and be posted health questions will screen for those with symptoms -- like cough or fever -- or who have had recent exposure to someone infected with COVID‑19. Overall level of service will depend on the status of the virus locally, so in some places there may be only pick up service. Stores may close just as quickly as they opened if circumstances change too.
Inside the stores, Apple will be enforcing social distancing starting with a limit (although not revealed) on the number of people allowed inside at once. All surfaces, display products, and highly trafficked areas will be deep cleaned throughout the day too.
You can read more in Apple's letter to customers at
Apple.com
.
Written by: James Delahunty @ 18 May 2020 9:56