Plugins
Many people have written plugins that extend the functionality of AviSynth. Before you can use a plugin you need to download it to your computer and copy 1 or more files to the AviSynth plugins directory. If you installed AviSynth to the default location, that will be C:\Program Files\AviSynth\plugins. In the AviSynth program group on the Start menu there's a Download Plugins link that will open a web page with links to many of them, including the ones used in this guide. Each download is a zip archive which normally includes a DLL file and either text or html files with instructions. Some plugins also come with source code or example scripts. The DLL files need to be copied to the AviSynth plugins directory so AviSynth can autoload them.
Note:
The download page has 2 columns for download links. The column to the left is for AviSynth 2.0 plugins and the one on the right is for AviSynth 2.5. Make sure you get the v2.5 plugins.
Get to know AVSEdit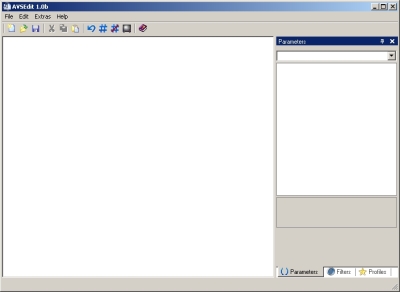 Before you start creating scripts you'll need to familiarize yourself with AVSEdit. There are 3 basic parts to the interface. At the top are the menu and button toolbars, which are fairly standard Windows toolbars. Below the toolbars on the left is the editor. You can view your script here as it's being created and also make manual changes and add comments. Finally, on the right side are 3 tabs - Parameters, Filters, and Profiles. Filters are the basic instructions for AviSynth and parameters are the details required for most filters. These 2 tabs allow you to select the filters from a list and enter the parameters in the fields provided. The Profiles tab gives you the ability to quickly save and load multiple versions of your script for comparison.



The filters tab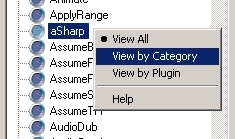 You'll want to arrange the Filters tab to make it easier to find what you're looking for. When you run the program the first time the filters are arranged in alphabetical order. That's fine if you know the name for the filter you want, but not so good for a beginner trying to figure out which filter does what to use. Right click anywhere on the tab and you'll see a popup giving you options for how filters are organized. Select View by Category. The tab changes to a list of categories, each with a + next to it. Clicking + will expand the list of filters in a category. Clicking a second time hides the list. Setting the Filters tab to View by Plugin will group filters by plugin so you can tell which plugin is required for a particular filter before you select it. Filters from plugins are also displayed in all views with a lighter blue circle next to them than the one used for Core filters.

Table of Contents

Plugins and familiarization