Getting help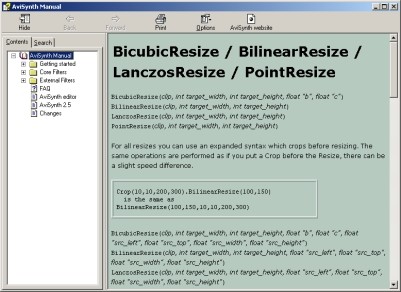 Clicking Content on the Help menu or clicking the help icon on the toolbar will open the AviSynth Manual. It's a good idea to read as much of the manual as possible to understand how AviSynth works. There are sections about general AviSynth useage, Core Filters, and External Filters that give basic instructions for scripting. You can look at the AviSynth Editor section for AVSEdit specific help, and it's also a good idea to read through the FAQ for help loading your script in another application like an encoder. If you are looking for help with a specific filter, highlight the filter in your script and click the Help button at the bottom of the Parameters tab. That will open the help file for the selected filter.



Still have questions?
If you can't figure out how to use a filter, post a question on our
discussion forums
. Using AviSynth isn't as hard as you probably think, and there are a lot of people ready to answer your questions. Above all, don't be afraid to try it out first.
Version history
1.0 - Initial version by vurbal (JK, 2004-02-09)
1.1 - Added sections for IVTC and deinterlacing (JK, vurbal, 2004-03-18)
Table of Contents

Getting more help