At the Consumer Electronics Show (CES), MSI Computer Corp. is showing two new tablets; one running an Android operating system and the other running Windows.
The two new generation
WindPad
tablets feature a stylish design and useful functions such as
G-Sensor
gravity detection, which apparently protects the internal hardware in case the unit is dropped. An ALS light sensor adjusts screen brightness based on surrounding light sources.
The
MSI WindPad 100A
tablet measures 10.1-inches, is half an inch thick at its thinnest point and weighs 1.6 pounds. It runs
Android OS
, powered by an ARM processor. It's features include a digital compass, GPS locator, Wi-Fi and optional 3G.
The WindPas 100A also includes USB and HDMI ports for expanding and connecting to other devices. The battery can run for right to ten hours on a single charge.
The
MSI WindPad 100W
tablet is much like the 100A but runs
Microsoft Windows 7 Home Premium
. It is equipped with an
Intel Menlow Z530
processor and a 32GB SSD for storage.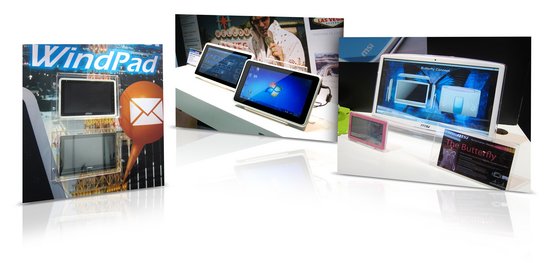 Written by: James Delahunty @ 7 Jan 2011 21:53