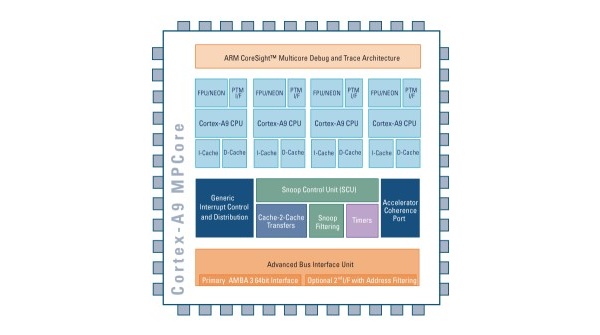 British technology firm ARM Holdings, plc. is expecting a boost in revenues from new high-end smartphones unveiled this week in Barcelona.
New high-end devices utilize
ARM
's new multi-core processor technologies. ARM licenses its technology to chipmakers like
Broadcom
,
Samsung
and
Renesas
instead of making chips of its own. It earns revenue from royalties on the sale of microprocessor units, as well as charging a licensing fee for the use of its technology.
Smartphones such as the new
LG Optimus 3D
and
Samsung Galaxy SII
are powered by ARM's
Cortex
, dual-core designs, which are also used to power tablet computers and microcontrollers.
It receives up to two percent of the selling price of chips based on the Cortex designs, and about one percent for the older chip technology which is still widely in use. The switch then to Cortex architecture in smartphones and tablets will significantly increase the revenue from royalty payments.
ARM CEO
Warren East
told
Reuters
that the company is not surprised by the speed of the roll-out of its newer chip technologies. He said that the company is keeping an edge over Intel in the ever-growing space.
"Intel is still a long way apart in processors on the market,"
he said.
"Unless they can make their processors smaller they will struggle."
Written by: James Delahunty @ 16 Feb 2011 18:25