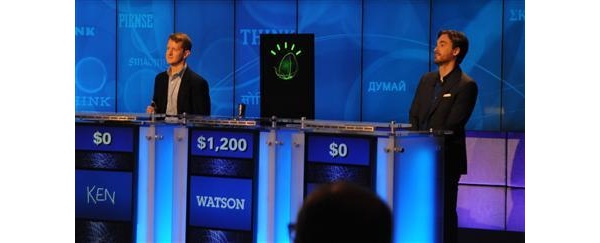 Last night's showing of "
Jeopardy!
," which featured former champions Ken Jennings and Brad Rutter taking on IBM's supercomputer Watson, was the highest rated episode of the show since 2007, drawing an 8.7 household rating.
The
taping's draw was 24 percent higher
than the show's 2010 average, and a similar (or higher) rating is expected for tonight's continuation episode.
After the first day of the three-day event, Watson was tied with Rutter at $5000 each, with Jennings lagging behind at $2000. The winner will receive $1 million. Second place gets $300,000 and third gets $200,000. IBM will donate all their winnings to charity and Jennings and Rutter will donate half.
At the end of day 2 (which just aired) Watson had taken a commanding lead, with $35,734 to Rutter's $10,400 and Jennings' $4,800. However, the machine did make a huge blunder in the 'Final Jeopardy' question which was in the category "U.S. Cities."
The clue was: "Its largest airport was named for a World War II hero; its second for a World War II battle." Watson answered 'Toronto' while both human competitors answered correctly, with 'Chicago.'
IBM made sure to
post an explanation
for the Toronto answer:
David Ferrucci, the manager of the Watson project at IBM Research, explained during a viewing of the show on Monday morning that several of things probably confused Watson. First, the category names on Jeopardy! are tricky. The answers often do not exactly fit the category. Watson, in his training phase, learned that categories only weakly suggest the kind of answer that is expected, and, therefore, the machine downgrades their significance. The way the language was parsed provided an advantage for the humans and a disadvantage for Watson, as well. "What US city" wasn't in the question. If it had been, Watson would have given US cities much more weight as it searched for the answer. Adding to the confusion for Watson, there are cities named Toronto in the United States and the Toronto in Canada has an American League baseball team. It probably picked up those facts from the written material it has digested. Also, the machine didn't find much evidence to connect either city's airport to World War II. (Chicago was a very close second on Watson's list of possible answers.) So this is just one of those situations that's a snap for a reasonably knowledgeable human but a true brain teaser for the machine.
Written by: Andre Yoskowitz @ 15 Feb 2011 21:52