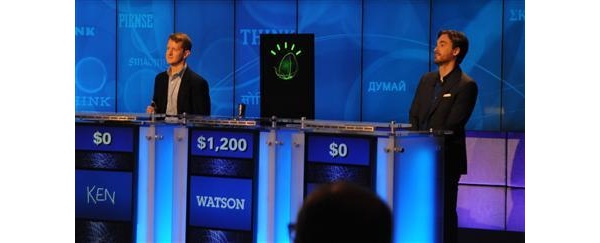 The IBM supercomputer 'Watson' has finished handily defeating its human opponents on Jeopardy today, beating former champions Ken Jennings and Bruce Rutter.
At the end of the three-day special event, Watson finished with $77,147 to Jenning's $24,000 and Rutter's $21,600.
After the first day of the three-day event, Watson was tied with Rutter at $5000 each, with Jennings lagging behind at $2000. At the end of day 2, however, Watson had taken a commanding lead, with $35,734 to Rutter's $10,400 and Jennings' $4,800.
IBM will receive $1 million, which it is donating to World Vision. Second place gets $300,000 and third gets $200,000. Jennings and Rutter will donate half of their winnings.
Watson is able to calculate thousands of algorithms at the same time, while searching its massive database for the right answer.
The behemoth computer
runs on ninety 32-core IBM Power 750 Express servers and has 16TB of memory.
Written by: Andre Yoskowitz @ 16 Feb 2011 21:11