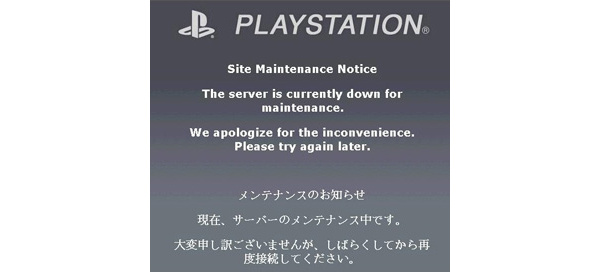 Sony
just cannot catch a break.
Within three days of the company restoring the PSN after over 3 weeks of downtime, Sony has had to take down its PSN web logins, thanks to a password exploit.
Users trying to sign in via Playstation.com, the PlayStation forums, PlayStation Blog, Qriocity.com or the Music Unlimited are greeted with the following message:
The server is currently down for maintenance. We apologize for the inconvenience. Please try again later.
Additionally (
via PCM
):
Unfortunately this also means that those who are still trying to change their password ... via Playstation.com or Qriocity.com will be unable to do so for the time being. This is due to essential maintenance and at present it is unclear how long this will take. In the meantime you will still be able to sign into PSN via your PlayStation 3 and PSP devices to connect to game services and view Trophy/Friends information.
Apparently, the PSN password system has a flaw that allows hackers to change your password as long as they have your date of birth and email associated with the account. 101 million users had their personal data compromised with the original breach, including, you guessed it, DOB and email.
Written by: Andre Yoskowitz @ 18 May 2011 12:23