Intel VP sees company as leader in software as well as hardware.
Doug Fisher
, Corporate Vice President, General Manager of the Software and Services Group's Systems Software Division,
Intel Corporation
, was speaking at Intel's Software Media Day on Thursday in San Francisco. He said the company had a challenge to get people to recognise it as a software company as well as a hardware company.
He singled out the consistency of Intel's architecture in the chipmaker's close relationship with industry partners who develop for everything from high-end servers to mobile platforms. Servers and high-performance systems can rely on Intel's
Xeon
microprocessors, while Intel's
Core
products power most of the world's PCs and laptops. For mobile users, there's Intel's
Atom
line.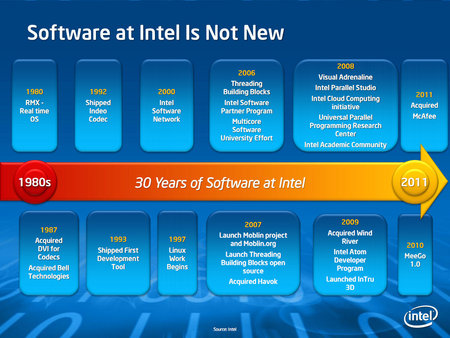 He said that Intel has been involved in the development of software for the past 30 years, a lot of it directly from acquisitions. One of Intel's recent and most important acquisitions is
McAfee
, as Intel increases its focus in the area of system security.
"Software companies are reshaping the industry today,"
said Fisher, who said the company must support worldwide developers by continuing to provide developer tools, maining software developer training and education programs worldwide and through developer conferences and other direct engagement.
In his opening presentation he asked who is the world's fastest growing telecoms company? And the fastest growing recruiter? And the fastest growing book seller? "They are all software companies!".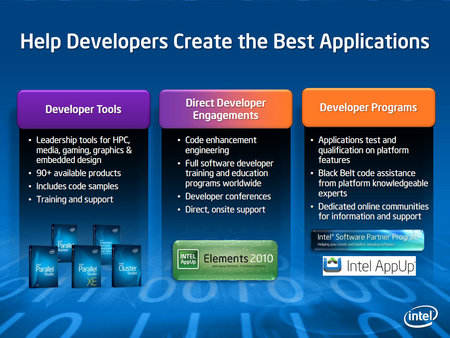 Intel's global investment organization,
Intel Capital
, also announced on Thursday seven investments in software firms worth $24 million. They include five new investments and two follow-on investments.
"The best computing experiences unite leading-edge hardware with amazing software,"
said
Arvind Sodhani
, president of Intel Capital and Intel executive vice president.
"These investments in best-of-breed software vendors play an integral part in Intel's software strategy by fueling the creation of compelling and unique user experiences across devices. They also demonstrate our stage-agnostic approach to investing in support of this ecosystem."
Intel's seven investments involve:
Written by: James Delahunty @ 10 Sep 2011 20:24