Chuck D of Public Enemy fame is the latest artist to sue his label alleging they are cheating him out of royalties from music downloads.
The issue, as with other artists who have sued, is whether downloads, including those from services like iTunes or Amazon's MP3 Shop as well as ringtones, should be counted as sales or licenses.
It's an issue which could cost the labels a lot of money due to the fact pre-iTunes recording contracts do not, obviously, have any royalty terms for downloads. In a
similar case
involving Eminem, a federal appeals court ruled that downloads clearly count as licensing, rather than sales.
This is significant because the royalty rate for licensing is much higher. Based on the contract terms disclosed in Chuck D's lawsuit,
Universal Music Group
would be required to pay him almost 50% of all the money they collect from each download.
Essentially, this is a case of the labels wanting to treat downloads in whatever way gives them the most power and makes them the most money. On one hand, they argue downloads are not sales when a consumer wants to sell them. Therefore the first sale doctrine does not apply. But when they pay the artist, they argue the opposite case, calling them sales to pay lower royalties.
Since this lawsuit was filed as a class action, the result could have an impact far beyond Chuck D. If successful, he could end up winning royalties for every artist being short changed by
UMG
's faulty accounting.
Even more interesting is the fact Chuck D's lawyers have laid out the exact calculations actually used for royalties under both frameworks. If you have never seen the terms of a standard recording contract, you may be shocked at how little the royalties are.
Keep in mind, these are the terms after he renegotiated them as a major star. Where his nominal royalty rate for sales is 24%, the common rate for lesser acts is around 10-11%. But even at his very high royalty rate, he still makes barely more than $80 for every 1000 songs sold.
If you recalculate that at a more standard 11% rate, it would be less than $37 for 1000 downloads, with the label keeping more than $550 for themselves. At the higher licensing rate, which would be the same for either type of contract, the artist gets more than $300 for the same sales.
But don't take my word for it. Here are his figures: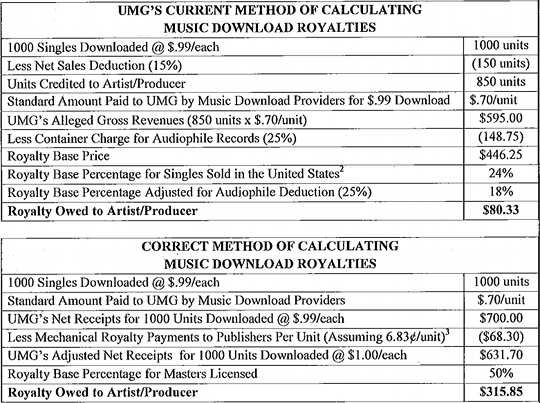 Written by: Rich Fiscus @ 4 Nov 2011 20:11