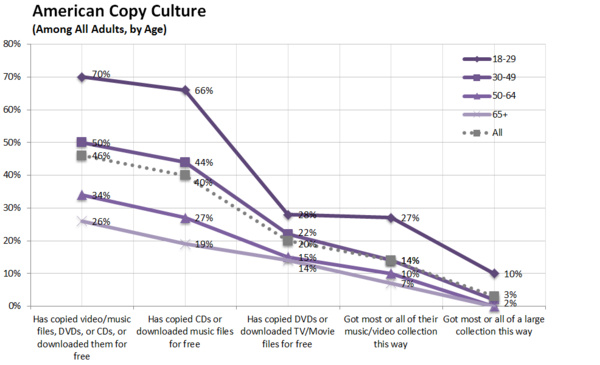 According to a new survey, Americans seem to have made piracy an acceptable practice, although a very small amount can be considered "hardcore" pirates.
70 percent of 18-29-year-olds surveyed admitted to pirating music, TV or movies, but only 2 percent said they had pirated over 1000 music tracks and only 1 percent said they had downloaded over 100 episodes or movies.
Additionally, 67 percent of pirates also purchased legal content, via outlets like
iTunes
.
The research is from the report "Copy Culture in the US and Germany" although so far, only the American research has been released. The data is via a Princeton Survey Research Associates telephone poll of 2,303 American adults this summer.
Overall, 46 percent of those surveyed admitted to piracy but a significant portion said they now pirate less due to the launch of "more attractive legal services" like Netflix
streaming
.
Video game players with "modified consoles" came in at only 3 percent, and mainly Xbox 360 users.
Perhaps the most interesting part of study came when the question was asked whether pirates should be punished for their actions, with only 52 percent agreeing. When asked what kind of punishment, a simple warning led the way at 51 percent, with jail time bringing up the rear at 12 percent. For music pirates, an "acceptable" fine was overwhelmingly seen at $10 or less per track.
If any of this interests you, I implore you to read the full report here, it's worth it: The Copy Culture Survey: Infringement and Enforcement in the US
Written by: Andre Yoskowitz @ 17 Nov 2011 18:13