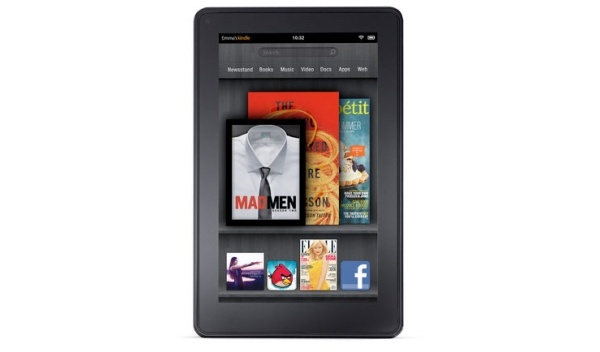 A previous report from IHS had estimated costs at $210.
Research firm IHS iSuppli has done a thorough teardown of the Amazon Kindle Fire and found that the component costs are about $201.70. Amazon sells the device for $199.
By far, the most expensive part was the 7-inch display, which came in at $87 per unit. The displays are
LG
E-Ink.
The 1GHz processor is a Texas Instruments OMAP4430 processor which costs $14.65 per unit. Texas Instruments also supplied the "power management device and the audio
codec
" which accounted for another $9.35.
To save money, Amazon skipped out on a camera, microphone,
microSD
card slot,
HDMI
port and 3G/4G wireless radios.
By comparison, the 16GB iPad 2 has a teardown price of $326 but with a much richer feature set.
Concludes IHS:
The Kindle Fire, at a retail price point of $199, is sold at a loss by Amazon, just as the basic Kindle is also sold at a loss at the current $79 retail price point.

Amazon makes its money not on Kindle hardware, but on the paid content and other products it plans to sell the consumer through the Kindle. This is a similar business model to wireless companies such as AT&T or Verizon. They sell you a phone that costs them $400 to $600 or more to make for a price of only $200. However, they expect to more than make up for that loss with a two-year service contract.
Full teardown
: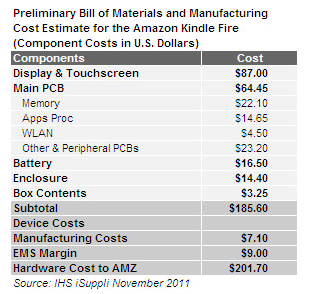 Written by: Andre Yoskowitz @ 18 Nov 2011 15:07