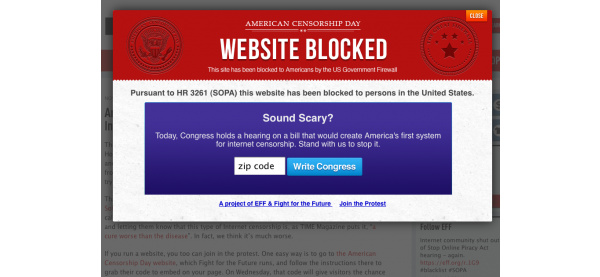 In a surprise move, The House Judiciary Committee has delayed the
Stop Online Piracy Act
(
SOPA
) vote.
The delay seems to be thanks to the committee's chairman Rep. Lamar Smith (R-Texas) agreeing to look further into one of the controversial provisions of the bill. That provision would allow the Attorney General to change many of the core Internet infrastructures in order to halt online piracy and copyright infringement. Other representatives argued changing the domain-naming system would cause security risks, says
Wired
.
Smith has pushed the hearing to the "earliest practical day that Congress is in session." With Congress' track record, that could be months down the line.
The Stop Online Piracy Act was proposed earlier this year. SOPA is the first of two bills being considered by Congress. The second is E-PARASITE/Protect-IP. The bills are created to prevent piracy, copyright infringement, and block access to "rogue foreign sites." The bills have been generally panned by the public and the major tech companies due to the fact that companies can get domains and websites shut down if they "engage in, enable or facilitate infringement." By creating this blacklist, governments and companies can choose to get sites cut off from search engines and from accepting payments for ads. SOPA only gives accused websites 5 days to file an appeal before they get shut down.
Additionally, the legislation gives the attorney general the power to change DNS entries, blocking users from visiting infringing sites. Similar "security" is used in China and Iran.
So far, the committee has not heard from an internet architect experts, but has heard multiple times from
MPAA
representatives.
Please, everyone, help keep America's Internet free and open, and not in the hands of politicians: http://americancensorship.org/
Written by: Andre Yoskowitz @ 16 Dec 2011 15:25