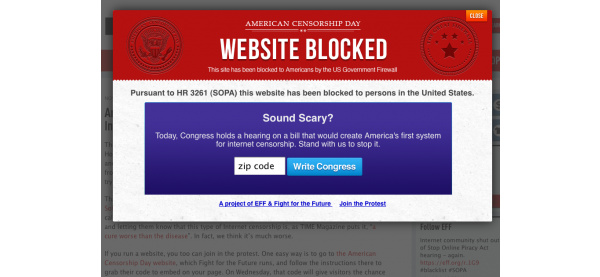 The judiciary committee and its chairman Lamar Smith have revealed the 120 formal supporters of
SOPA
(
Stop Online Piracy Act
), the draconian bill that will mark the end of free Internet, putting the U.S. in the illustrious group that includes North Korea, Iran and China.
SOPA was proposed earlier this year. SOPA is the first of two bills being considered by Congress. The second is E-PARASITE/Protect-IP. The bills are created to prevent piracy, copyright infringement, and block access to "rogue foreign sites." The bills have been generally panned by the public and the major tech companies due to the fact that companies can get domains and websites shut down if they "engage in, enable or facilitate infringement" or are even accused of it. By creating this blacklist, governments and companies can choose to get sites cut off from search engines and from accepting payments for ads. SOPA only gives accused websites 5 days to file an appeal before they get shut down. If a user posts pirated material in the comments or forum section, the entire site can be shut down for good.
Additionally, the legislation gives the attorney general the power to change DNS entries, blocking users from visiting infringing sites.
While the list is not surprising in the least, there are a few strange entries in there, including GoDaddy, Tiffany Co (jewelry maker), L'Oreal (cosmetics maker) and BeachBody LLC (the team behind the P90X workouts). Regardless, you can't go wrong with boycotting all the following companies, and moving your domains from GoDaddy.
The list:
60 Plus Association
ABC
Alliance for Safe Online Pharmacies (ASOP)
American Federation of Musicians (AFM)
American Federation of Television and Radio Artists (AFTRA)
American Society of Composers, Authors and Publishers (ASCAP)
Americans for Tax Reform
Artists and Allied Crafts of the United States
Association of American Publishers (AAP)
Association of State Criminal Investigative Agencies
Association of Talent Agents (ATA)
Baker & Hostetler LLP
Beachbody, LLC
BMI
BMG Chrysalis
Building and Construction Trades Department
Capitol Records Nashville
CBS
Cengage Learning
Christian Music Trade Association
Church Music Publishers? Association
Coalition Against Online Video Piracy (CAOVP)
Comcast/NBCUniversal
Concerned Women for America (CWA)
Congressional Fire Services Institute
Copyhype
Copyright Alliance
Coty, Inc.
Council of Better Business Bureaus (CBBB)
Council of State Governments
Country Music Association
Country Music Television
Covington & Burling LLP
Cowan, DeBaets, Abrahams & Sheppard LLP
Cowan, Liebowitz & Latman, P.C.
Creative America
Davis Wright Tremaine LLP
Deluxe2
Directors Guild of America (DGA)
Disney Publishing Worldwide, Inc.
Elsevier
EMI Christian Music Group
EMI Music Publishing
ESPN
Estée Lauder Companies
Fraternal Order of Police (FOP)
Go Daddy
Gospel Music Association
Graphic Artists Guild
Hachette Book Group
HarperCollins Publishers Worldwide, Inc.
Hyperion
Independent Film & Television Alliance (IFTA)
International Alliance of Theatrical and Stage Employees (IATSE)
International AntiCounterfeiting Coalition (IACC)
International Brotherhood of Electrical Workers (IBEW)
International Brotherhood of Teamsters (IBT)
International Trademark Association (INTA)
International Union of Police Associations
Irell & Manella LLP
Jenner & Block LLP
Kelley Drye & Warren LLP
Kendall Brill & Klieger LLP
Kinsella Weitzman Iser Kump & Aldisert LLP
L?Oreal
Lathrop & Gage LLP
Loeb & Loeb LLP
Lost Highway Records
Macmillan
Major County Sheriffs
Major League Baseball
Majority City Chiefs
Marvel Entertainment, LLC
MasterCard Worldwide
MCA Records
McGraw-Hill Education
Mercury Nashville
Minor League Baseball (MiLB)
Minority Media & Telecom Council (MMTC)
Mitchell Silberberg & Knupp LLP
Morrison & Foerster LLP
Motion Picture Association of America (MPAA)
Moving Picture Technicians3
MPA ? The Association of Magazine Media
National Association of Manufacturers (NAM)
National Association of Prosecutor Coordinators
National Association of State Chief Information Officers
National Cable & Telecommunications Association (NCTA)
National Center for Victims of Crime
National Crime Justice Association
National District Attorneys Association
National Domestic Preparedness Coalition
National Football League
National Governors Association, Economic Development and Commerce Committee
National League of Cities
National Narcotics Offers? Associations? Coalition
National Sheriffs? Association (NSA)
National Songwriters Association
National Troopers Coalition
News Corporation
Patterson Belknap Webb & Tyler LLP
Pearson Education
Penguin Group (USA), Inc.
Pharmaceutical Research and Manufacturers of America (PhRMA)
Phillips Nizer, LLP
Pfizer, Inc.
Proskauer Rose LLP
Provident Music Group
Random House
Raulet Property Partners
Republic Nashville
Revlon
Robins, Kaplan, Miller & Ciresi LLP
Scholastic, Inc.
Screen Actors Guild (SAG)
Shearman & Sterling LLP
Showdog Universal Music
Simpson Thacher & Bartlett LLP
Skadden, Arps, Slate, Meagher & Flom LLP
Sony/ATV Music Publishing
Sony Music Entertainment
Sony Music Nashville
State International Development Organization (SIDO)
The National Association of Theatre Owners (NATO)
The Perseus Books Groups
The United States Conference of Mayors
Tiffany & Co.
Time Warner4
Ultimate Fighting Championship (UFC)
UMG Publishing Group Nashville
United States Chamber of Commerce
United States Tennis Association
Universal Music
Universal Music Publishing Group
Viacom
Visa, Inc.
W.W. Norton & Company
Warner Music Group
Warner Music Nashville
White & Case LLP
Wolters Kluewer Health
Word Entertainment
On the other hand, there are at least 40
very strong
Internet-based companies that are against the bill, and
Crunch
has listed them:
AOL
Boing Boing
Creative Commons
Daily Kos
Disqus
eBay
Etsy
Facebook
foursquare
Google
Grooveshark
Hype Machine
Kickstarter
Kaspersky
LinkedIn
Mozilla
MetaFilter
OpenDNS
O?Reilly Radar
Reddit
Techdirt
PayPal
Torrentfreak
Tumblr
Twitter
TechCrunch
Yahoo!
Zynga
Scribd
YCombinator
Wikipedia
Reddit
Namecheap
Petzel
ICanHasCheezburger
Quora
Embedly
MediaTemple
CloudFlare
StackExchange (Stack Overflow)
Github
Linode
Hostgator
Square
The Huffington Post
Craigslist
ESET
4chan
Please, everyone, help keep America's Internet free and open, and not in the hands of politicians and dying media companies: http://americancensorship.org/
Written by: Andre Yoskowitz @ 23 Dec 2011 12:32