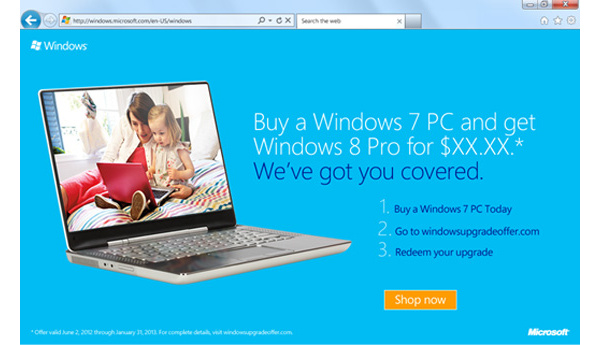 Microsoft
will begin a promotion in June to reward late Windows 7 PC buyers.
The promotion, which will begin June 2nd,
will allow
any buyer of a new Windows 7-based PC to upgrade to the upcoming Windows 8 Pro for just $14.99. The normal price is expected to be upward of $79 for an upgrade copy when the operating system hits in October or November.
As in past years, the promotion makes sense since consumers (unless they are desperate) are usually willing to wait a few months to upgrade or purchase a new PC if they now a new operating system is coming.
This promotion however, is slightly different as any kind of Windows 7 will be upgradeable to the Pro version of Windows 8, which is the higher-end and more expensive version of the OS.
The deal is valid until January 31st of next year.
Written by: Andre Yoskowitz @ 15 May 2012 22:34