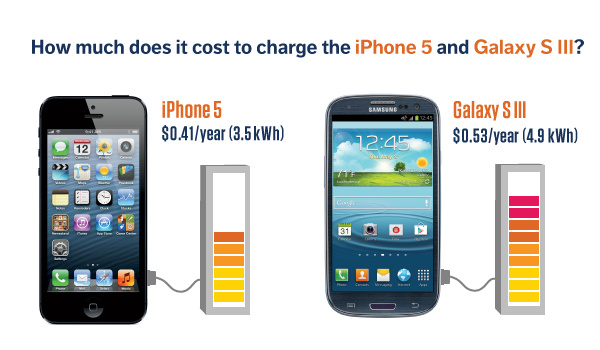 According to a new report, the new
Apple iPhone 5
costs just 41 cents per year to charge, assuming you charge it once per day.
Says Opower, the energy analytics co.:
"iPhone 5: consumed 9.5 watt-hours to charge, taking 1 hour and 50 minutes. Maximum wattage was 6.3 watts, with an average of approximately 5.0 W. Multiplying 0.0095 kWh/day by 365 days = 3.47 kWh per year. Annual charging cost is projected to be $0.41/year."
That figure is a bit higher than the $0.38 it cost for the
iPhone 4S
, but much lower than the $1.36 for the third-generation iPad tablet.
While the numbers are insignificant across the board, the iPhone did manage to beat out its main rival, the
Samsung Galaxy S III
, which costs about 53 cents a year to charge thanks to having a larger battery.
"The paramount point here though is not the difference between the two phones, but rather their striking similarity: the energy consumption of a modern smartphone is minuscule,"
Opower's Barry Fischer
noted
.
Written by: Andre Yoskowitz @ 29 Sep 2012 19:47