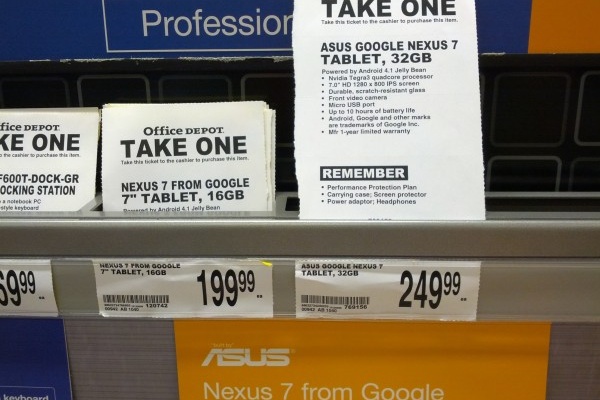 Even though it was made available unofficially at Staples last week, it appears the Google Nexus 7 is finally official and widely available.
Office Depot and Gamestop
are offering
the tablet at $249, replacing the price point of the 16GB model. The 16GB has seen a price drop to $199, with the 8GB model being discontinued.
The spec sheet did reveal one surprise, however, and that is the version of
Android
. Most speculated it would run the upcoming 4.2 right out of the box, but the specs say 4.1.2.
It is likely that 4.2 is coming, very soon, as Google was supposed to unveil the update at their press event on Monday. That has since been postponed due to the incoming Hurricane Sandy.
Additionally, the search giant is expected to unveil the Nexus 4 smartphone and the Nexus 10 full-sized tablet at the event.
Written by: Andre Yoskowitz @ 28 Oct 2012 22:05