The U.S. DOE has activated the world's most powerful supercomputer, dubbed the 'Titan.'
Speaking from their
Oak Ridge National Laboratory (ORNL)
facility, the agency said the supercomputer was live, with the ability to calculate at
20 petaflops
(FLOPS stands for
"Floating Point operations per Second"
, so 20 PFLOP/s == 20 quadrillion floating point operations per second, or 20,000,000,000,000,000 floating point operations per second).
Titan is 10 times more powerful than the ORNL's current
'Jaguar'
machine, which is the sixth fastest machine in the world after long being the top dog.
The ORNL's press release says the computer is powered by the Cray XK7 system:
"The Cray XK7 system contains 18,688 nodes, with each holding a 16-core AMD Opteron 6274 processor and an NVIDIA Tesla K20 graphics processing unit (GPU) accelerator. Titan also has more than 700 terabytes of memory. The combination of central processing units, the traditional foundation of high-performance computers, and more recent GPUs will allow Titan to occupy the same space as its Jaguar predecessor while using only marginally more electricity."
As with past supercomputers, the system will be used to
support research in the sectors of materials science, energy and climate change
.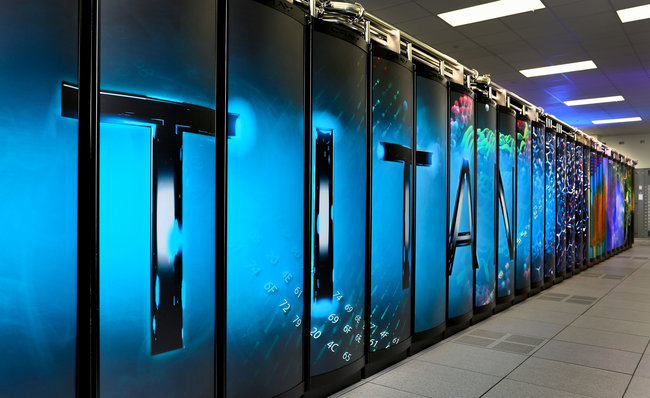 (written by Andre Yoskowitz)
Written by: Andre Yoskowitz @ 30 Oct 2012 20:52