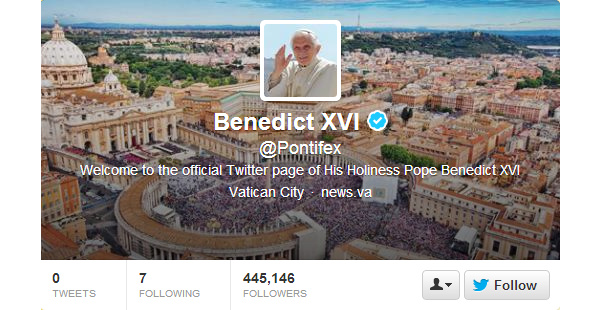 Earlier today, the Vatican announced that Pope Benedict XVI would begin posting messages to Twitter beginning next week.
The Pope will tweet from the handle @pontifex, a Latin-based term used for the Pope.
As of today, despite never tweeting, he currently has 445,000 followers while he follows just 7 users, all of which are just different language versions of himself. The religious figure will not follow nor retweet anyone.
The Vatican has begun a new topic, #askpontifex, if anyone has questions related to matters of the faith.
All posts will be released in Arabic, English, French, German, Italian, Polish, Portuguese and Spanish with more languages expected into the future.
While aides
will write all of the Pope's posts
, he will actively "engage" in each one and also must "approve" the content.
Written by: Andre Yoskowitz @ 4 Dec 2012 20:04