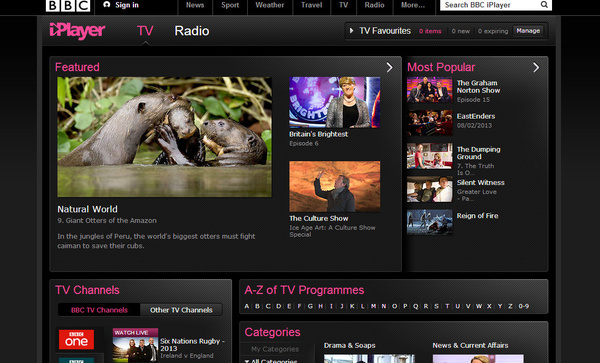 BBC Trust backs iPlayer trial.
The
BBC
will make TV programmes available on the
iPlayer
before they broadcast on TV, after the BBC Trust approved a year long trial. Broadband customers in the UK will be able to watch content on the services' iPlayer before it is scheduled to be broadcast on TV, across all genres.
In 2012, the BBC iPlayer served
more than a billion videos and radio streams
to Internet users. Around 2 percent of all BBC viewers watch its programming solely via the Internet.
BBC's iPlayer is available across platforms, such as games consoles and mobile devices, and while the license-payer funded service dwarves the private competition, services like Netflix can benefit in the long run to more consumer adopting of Internet streaming as opposed to TV viewing.
The BBC has not yet decided exactly which programmes will be available on iPlayer first.
Written by: James Delahunty @ 10 Feb 2013 10:15