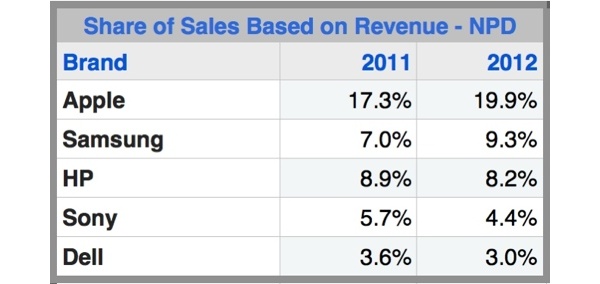 Apple
, with just a few products, managed to account for 20 percent of all 2012 U.S. consumer tech revenue.
The data comes via NPD, which says Apple grew to its current share from a 17.3 percent share in 2011.
Samsung
took second place at 9.3 percent, followed by
HP
at 8.2 percent,
Sony
at 4.4 percent and
Dell
at 3 percent. Samsung saw strong growth while everyone else in the top five fell.
Apple and Samsung combined to account for $6.5 billion in increased sales last year while the rest of the industry saw a decline of $9.5 billion combined.
"While sales fell in consumer technology for the second consecutive year, there was an uptick in Q4 which is cause for optimism,"
added Stephen Baker, vice president of industry analysis at NPD (
via AI
).
"After struggles with declining categories, and increasingly saturated markets over the last few years, fourth quarter's results may be the first sign that even as a mature industry consumer technology can grow again, albeit with a very different dynamic than in previous growth spurts."
Out of the biggest categories for consumer tech, smartphones and tablets were the only to see growth. See the below chart: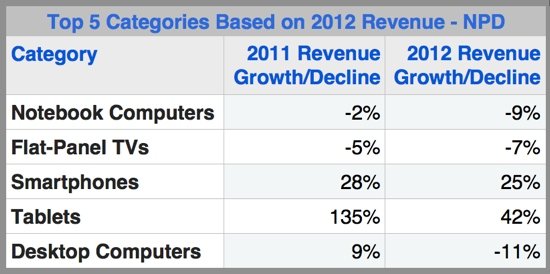 Written by: Andre Yoskowitz @ 20 Feb 2013 23:47