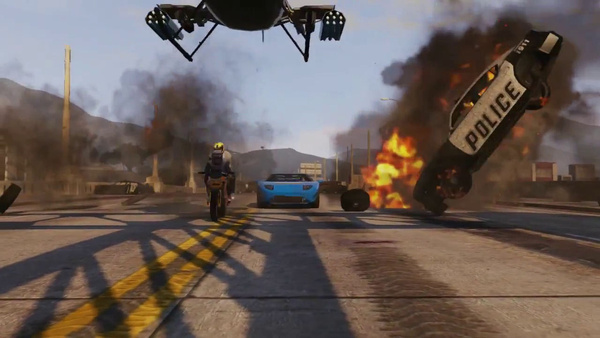 A Robert W. Baird analyst is predicting that Rockstar Games' latest Grand Theft Auto title will beat the early success of its predecessor, released in 2008.
When released in 2008, Grand Theft Auto IV has sold over 25 million copies worldwide. It sold 3.6 million copies off the shelf on its very first day. The number swelled to 6 million copies in the first week, and 11 million in the first month.
Fast forward over five years to today, with the release of the hotly anticipated Grand Theft Auto V for PlayStation 3 and Xbox 360, and there are plenty of reasons to expect it to beat GTA IV, according to Colin Sebastian, a Robert W. Baird analyst.
"Given the significantly higher installed base of relevant console platforms at launch, greater sales concentration among the top video game franchises, and unprecedented pentup demand, we expect GTAV to outpace GTAIV sales, and generate roughly $1 billion in retail sales during the first month,"
he said
in a note to investors.
Grand Theft Auto V breaks from tradition by allowing you to control three different main characters; Michael De Santa is a retired bank robber, Trevor Phillips is a former criminal associate and Franklin Clinton is a repo man looking to expand his horizons a bit. Their stories are interconnected and they combine their skills to pull of missions.
The game is set in the fictional San Andreas state (based on Southern California), which features the fictional Los Santos (based on Los Angeles) city. The map for the game is reportedly larger than the maps of Grand Theft Auto: San Andreas, Grand Theft Auto IV and Red Dead Redemption combined.
Grand Theft Auto Online will be released as a free update in October.
Written by: James Delahunty @ 17 Sep 2013 20:04