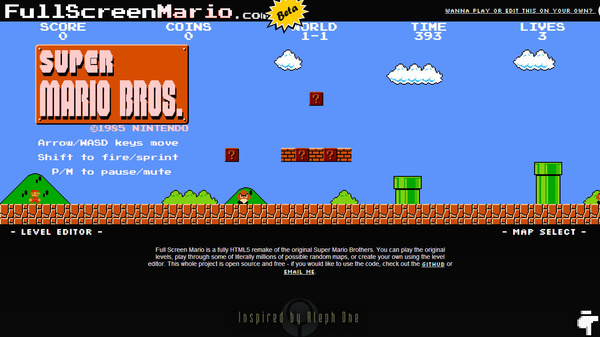 One of the world's most addictive and iconic games has been born yet again, and this time its in pure HTML5.
Full Screen Mario is an open-source effort started by Josh Goldberg. It recreates Super Mario using just HTML5, letting you play the game in your browser.
In addition to the Super Mario we all know and love (admit it!), you can also play
randomly generated levels
which can result in some surprising and very difficult situations. If you are the creative type, you can build your own level, or you can just stick to recreated Super Mario levels.
Either way it is pretty cool to see.
Check it out:
Full Screen Mario
(via
BoingBoing
)
Written by: James Delahunty @ 10 Oct 2013 22:48