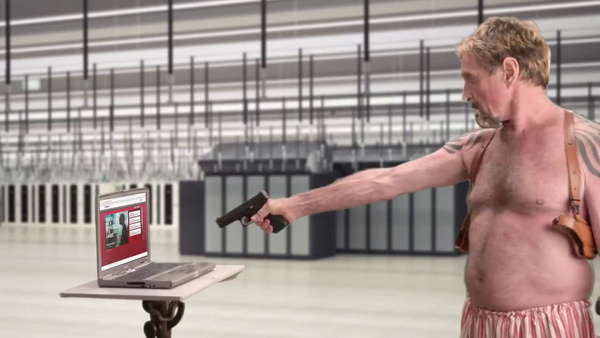 Intel will stop using the McAfee brand name through this year, distancing itself from the brand associated with controversial founder John McAfee.
The chipmaker announced at CES it would be rebranding products as
"Intel Security"
instead, and that it could take up to a year to make the switch. The McAfee company will survive as a wholly-owned subsidiary of Intel though.
John McAfee's antics probably prompted Intel to rebrand its products. In June 2013, John was featured in a video with instructions on how to remove McAfee Antivirus from your computer. Of course, the video was laced with guns, women, drugs and plenty of profanity, and ended with a permanent uninstall solution delivered with a gun.
What does John feel about this rebranding? He's ecstatic!
"I am now everlastingly grateful to Intel for freeing me from this terrible association with the worst software on the planet. These are not my words, but the words of millions of irate users,"
he said, reports the
BBC News
website.
"My elation at Intel's decision is beyond words."
Video:
How to Uninstall McAfee Antivirus with John McAfee
(
CONTENT WARNING!
)
Written by: James Delahunty @ 7 Jan 2014 7:29