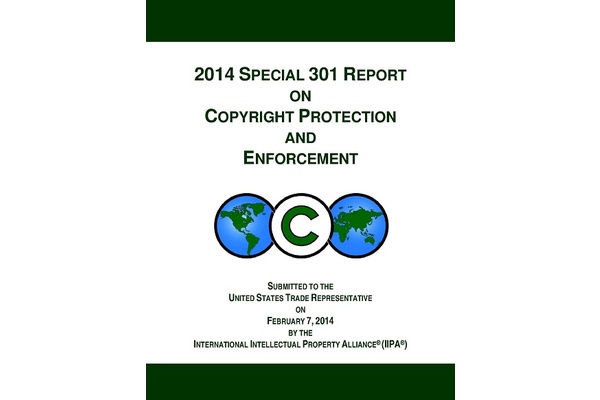 The International Intellectual Property Alliance (IIPA) has once again called out Canada for being a
magnet
for piracy, where piracy sites are free to operate and downloaders are free to download unauthorized content without fear of retribution.
IIPA members include the
MPAA
,
RIAA
,
BSA
and
ESA
among others, and the group last month released their latest report to the U.S. government in which countries are not doing enough to combat piracy. Just like in years past, Canada was placed in the 2014 Special 301 "watch list" for countries on the naughty list (via
TorrentFreak
).
In their complaints, one of the largest criticisms was that Canada remained a popular home to many "rogue" businesses including
torrent
sites like torrentz.eu and kickass.to as well as the recently shut down giant isoHunt.
"Even after the shuttering of Isohunt, Canada is still the home to some of the world's most popular Internet sites dedicated to piracy, including torrentz.eu and kickass.to, which garnered rankings of third and second place, respectively, on one of the most widely accessed listings of the world's most popular illicit BitTorrent sites,"
the IIPA writes. The Pirate Bay of course remained in the top spot.
In addition, there were other
warez
sites, including cuevana.tv, free-tv-video-online.me, solarmovie.so, fenopy.se and monova.org named in the report. Canada will keep attracting these sites because there has yet to be any real enforcement action against them by authorities.
"It is hard to avoid the conclusion that Canada remains a magnet for sites whose well-understood raison d'Ítre is to facilitate and enable massive unauthorized downloading of pirated versions of feature films, TV shows, recorded music, entertainment software, and other copyright materials,"
the IIPA writes.
"The largest of these Canadian-hosted sites attract scores of millions of unique visitors every month, and their corrosive effects on legitimate markets are felt worldwide."
Furthermore, because of a lack of enforcement against sites, and downloaders/uploaders, piracy is twice as frequent in Canada as it is in the U.S., says the report.
While our friend and neighbor Canada only made the watch list, a few foreign nations made the "priority watch list" in which the grievances are even more plenty. The nations include Argentina, Chile, China, Costa Rica, India, Indonesia, the Russian Federation, Thailand and Vietnam.
You can download and read the interesting (if not slanted) International 301 report here, including all the other nations that made the naughty list:
IIPA Special 301
Written by: Andre Yoskowitz @ 2 Mar 2014 13:28