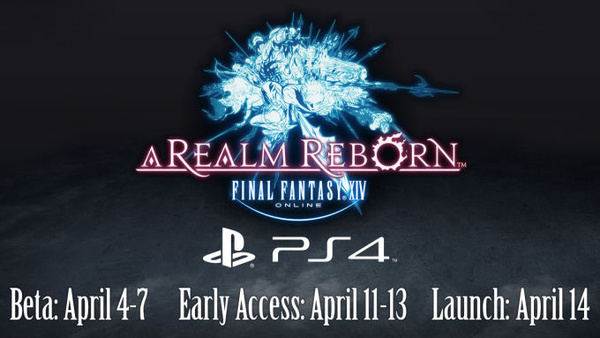 Ahead of its anticipated launch on April 14th on the PlayStation 4 (PS4), you can check out a beta of the Final Fantasy XIV: A Realm Reborn this weekend.
To get the beta, just head to the PlayStation Store and search for it this weekend, April 4 - April 7. Remember to uninstall the first beta client if you have it installed.
The beta will take place on live servers. So you will see the same worlds, the same game that 1.8 million players all around the world are already enjoying.
Those who have pre-ordered FFXIV will be able to access the game from April 11 - April 13 before everyone else. You can start building your character, getting a head start and making friends from all over the globe.
Remember, users currently playing Final Fantasy XIV: A Realm Reborn on PlayStation 3 are eligible to upgrade to the PlayStation 4 version starting 11 April, 2014 for free.
Sources and Recommended Reading:
FXIV: ARR launching on the PS4 in 14 days!:
na.square-enix.com
"PS4" Upgrade Campaign:
eu.finalfantasyxiv.com
(via:
Engagdet
)
Written by: James Delahunty @ 4 Apr 2014 22:07