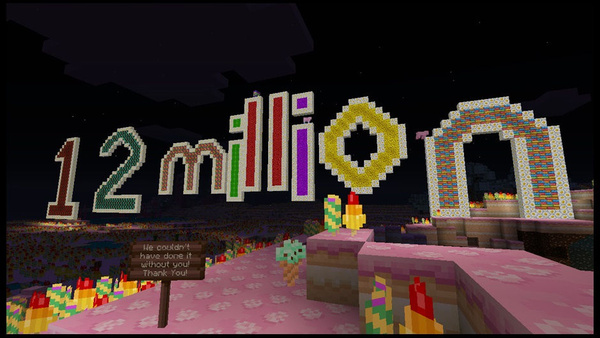 The Xbox 360 Edition of Minecraft has reached over 12 million sales, and the Xbox One edition will be coming, eventually.
The milestone was announced by the official Xbox website along with a Q&A with Mojang's Daniel Kaplan about Minecraft: Xbox 360 Edition". Kaplan said that they never would have imagined the game being so successful.
"I remember when we started talking about sales numbers that we would be super happy to sell 1 million copies. That would have put us on par with BF1943 and Castle Crashers, which both are awesome games, so that was something to aim for. We never even dreamed of selling 12 million,"
he said.
The most requested feature addition they are hounded for is bigger worlds, but Kaplan explained that bigger worlds would require the guarantee of a hard drive in every Xbox 360.
"Since not all 360's ship with hard drives that makes things tricky. Luckily, on Xbox One, that's not an issue,"
he said.
On Xbox One, Kaplan said that the Minecraft: Xbox One Edition" will be coming,
"eventually."
Sources and Recommended Reading:
Minecraft Creeps Past 12 Million Sold on Xbox 360:
news.xbox.com
Written by: James Delahunty @ 4 Apr 2014 21:51