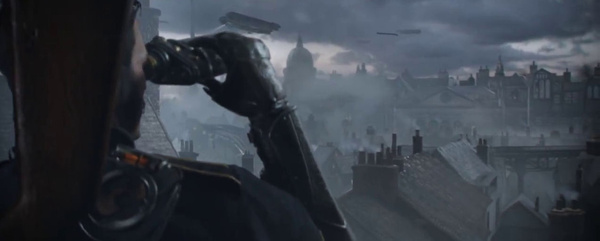 Sony's E3 press briefing contained many treats, and a new trailer for The Order: 1886 was one of the sweetest.
The trailer showed quite a dark side of Sony's upcoming action adventure title. It is being developed by Ready at Dawn and SCE Santa Monica Studio for exclusive release on the PlayStation 4 (PS4) console.
It is set in an alternative history/reality in which there are half-human, half animal "half breeds" that are being fought off by humans. The humans, however, are in a losing struggle.
No worries, because with the discovery of a mystery liquid called Black Water which boosts longevity significantly, combined with a way-ahead-of-its-time industrial revolution, the tide begins to turn.
In 1886, with humans in control things start to get bad again as the humans fight among themselves too. Take a look at the trailer and see some of the action we can expect.


NEWS FROM E3 2014
Xbox boss makes big step toward Xbox One recovery at E3
E3 2014: Halo: The Master Chief Collection coming to Xbox One, Halo 5: Guardians multiplayer beta this fall
E3 2014: Far Cry 4 opening minutes shows nutcase villain Pagan Min
E3 2014: Watch 'Rise of the Tomb Raider' announce trailer
E3 2014: Assassin's Creed: Unity 4 player co-op demo
E3 2014: Call of Duty: Advanced Warfare 'Induction' Gameplay Video
E3 2014: Dead Island 2 trailer is full of laughs and obscene horror
E3 2014: Battlefield Hardline beta available for PS4, PC now
GTA V headed to PS4, Xbox One and PC later this year
E3 2014: FIFA 15 launching September 23 for PC, Xbox One and PS4 (+video)
E3 2014: Tom Clancy's The Division gameplay demo
E3 2014: Watch reactions to 'The Evil Within'
E3 2014: The Order: 1886 full trailer shown at E3
E3 2014: Crackdown returns on Xbox One
E3 2014: Forza Horizon 2 trailer & Forza Motorsport 5 gets Nürburgring
E3 2014: The Witcher 3: Wild Hunt trailer
E3 2014: Fable Legends Gameplay Trailer
E3 2014: New Phantom Dust announced for Xbox One
E3: inFAMOUS First Light teaser trailer
E3 2014: The Crew 'Coast to Coast' trailer shown at E3
PlayStation 4 getting native YouTube app this year
'Destiny' beta headed to Sony PlayStation 4 on July 17th
Written by: James Delahunty @ 10 Jun 2014 0:35