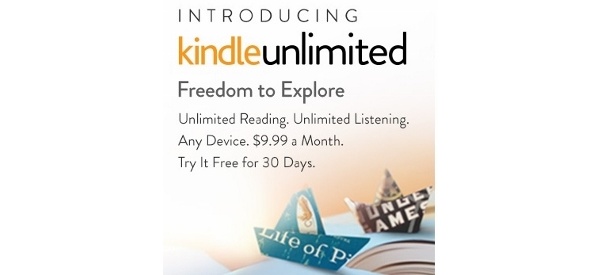 As leaked two days ago, Amazon's Kindle Unlimited ebook service is now official and live.
The monthly subscription service costs $9.99 and gives you access to over 600,000 ebooks and over 2000 audiobooks. You can read as many books as you want while paying for the service, but the access disappears if you ever cancel.
Amazon will immediately be the biggest player on the block, taking on little known Oyster (500,000 titles for $9.95 a month) and Scribd (400,000 titles for $8.99 per month).
A few of the featured titles are best sellers like the Harry Potter series, the Hunger Games series, the Lord of the Rings series and Michael Lewis' latest, 'Flash Boys.' There are also plenty of classics like Animal Farm and even a large amount of books from the For Dummies series. Unlimited also includes Kindle Singles, popular short titles under 100 pages.
"With Kindle Unlimited, you won't have to think twice before you try a new author or genre--you can just start reading and listening,"
Russ Grandinetti, senior vice president of Kindle, said in a statement.
All books have Whispersync, Popular Highlights, X-Ray, customer reviews, and Goodreads integration.
Written by: Andre Yoskowitz @ 18 Jul 2014 23:19