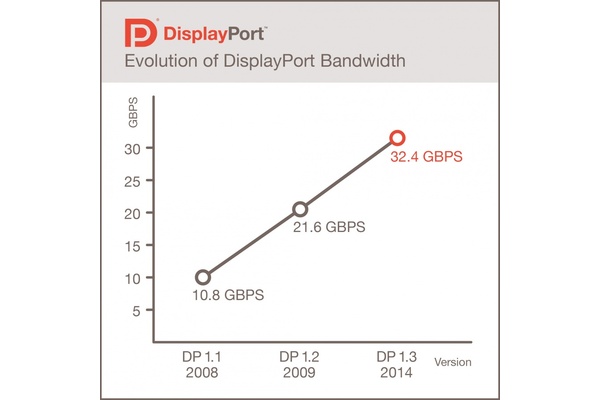 The Video Electronics Standards Association (VESA) has announced the new A/V standard DisplayPort 1.3.
Currently, the standard is DisplayPort 1.2a, but the new update will increase the maximum link bandwidth to 32.4 Gbps, "with each of four lanes running at a link rate of 8.1 Gbps/lane--a 50% increase from the previous version of the DisplayPort standard. Allowing for transport overhead, DisplayPort's 32.4 Gbps combined link rate delivers 25.92 Gbps of uncompressed video data."
With higher bandwidth, 5K monitors should be able to use a single DP 1.3 cable, without any compression, a very impressive feat given the 5120 x 2880 resolution necessary.
In addition, a single connection can now use two 4K monitors using DisplayPort's Multi-Stream feature.
For connectivity, DP 1.3 keeps its VGA, DVI and HDMI. DisplayPort 1.3 support and adds HDCP 2.2 and HDMI 2.0 with CEC, support for 4K video with copy protection and new support for a "4:2:0 pixel structure, a video format commonly used on consumer digital television interfaces, which enables support for future 8K x 4K displays."
"While becoming a mainstream video standard, DisplayPort continues to be at the cutting edge of A/V transport,"
said VESA Board of Directors Chair Alan Kobayashi, Fellow & Executive R&D Management for DisplayPort Group at MegaChips Technology America.
"These new enhancements to DisplayPort will facilitate both higher resolution displays, as well as easier integration of DisplayPort into multi-protocol data transports, which will satisfy consumer's desire for simplicity and ease-of-use."
Source:
VESA
Written by: Andre Yoskowitz @ 15 Sep 2014 22:43