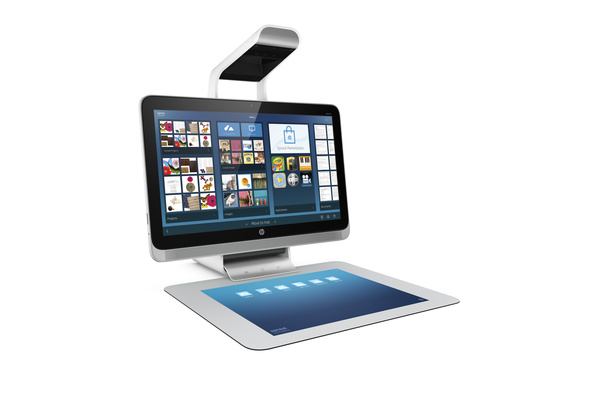 HP has introduced a new all-in-one touchscreen PC this week dubbed the Sprout that features a strange new projector/3D scanner and a 20-inch mat that allows you to turn your desk into a tablet.
The company says the Sprout is their first "Blended Reality" device in an "effort to streamline the interface between real and virtual objects."
As a PC by itself, the device is powerful. Base models, which sell for $1900, run on a 3.2GHz quad-core Intel Core i7 CPU with 8GB RAM, a NVIDIA GeForce GT 745A graphics card with 2GB RAM, a 1TB HDD/SSD hybrid drive, and connectivity includes an SD/SDHC/SDXC card reader, an HDMI port, and a pair of USB 3.0 and USB 2.0 ports. The display is a 1080p 23-inch LCD screen.
While those are standard mid to high-end specs, the reason you are getting the PC is for the projector. The projector faces downward and projects a touch-sensitive keyboard onto the mat which allows for typing and gestures. In addition, the "HP Illuminator" also acts as a scanner and allows you to move "documents or objects in front of the computer, scan them with the Sprout's 14.6-megapixel and depth-sensing Intel RealSense cameras, and then use the multitouch mat to move those scanned objects around and resize them," reads
Wired's
review.
The Illuminator is also a 3D scanner, however at launch it will be limited to 2D scanning. The 3D scan turntable and HP-built 3D modeling software will be available sometime after May of next year.
Orders begin shipping November 9th.
Written by: Andre Yoskowitz @ 1 Nov 2014 0:15