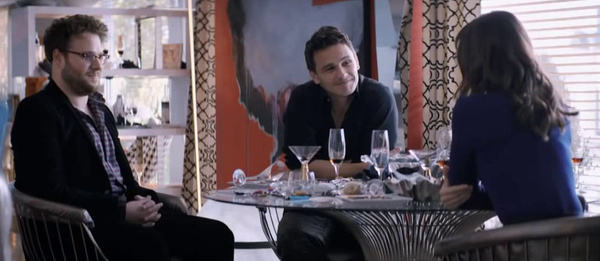 The Sony Pictures hack saga took a nefarious turn yesterday when an apparent terrorism threat was made against move theaters that show 'The Interview'.
The note - which even referenced the 9/11 terrorist attacks - warned movie goers to stay clear of locations where the movie is being shown. Sony Pictures said it would not pull the movie from distribution, but would understand if individual theaters decided not to screen it.
One such cancellation that was surprising is a New York premiere of the comedy. It was scheduled to be screened at the Sunshine Cinema in Lower East Side, New York, on Thursday, but Landmark has confirmed its cancellation. It didn't, however, directly attribute the cancellation to any threat of violence.
Carmike Cinemas, which operates in 41 states, also will not show the film.
Sony Pictures was the target of a massive attack in which terabytes of data were stolen. That data has been leaking to the Internet slowly ever since, and has caused turmoil at the studio. A lawsuit has already been filed against Sony Pictures for failing to protect data by former employees.
All in all, the data breach could cost Sony Pictures in excess of $100 million.
Sources and Recommended Reading:
New York premiere of North Korea comedy canceled after threats: www.reuters.com
Written by: James Delahunty @ 17 Dec 2014 12:18