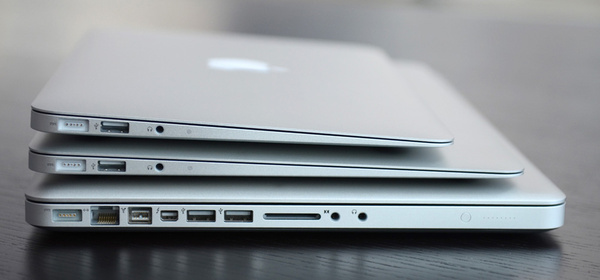 After three years of major declines for the industry, 2014 saw PC shipments finally stabilize somewhat with growth from most of the major OEMs.
Overall, sales slipped 2.1 percent year-over-year after years of double digit losses and total annual shipments were down to 308.6 million units.
"The strength from market leaders, as well as improvement in Asia/Pacific and the consumer market more generally, are positive signs for the PC market,"
said Loren Loverde, IDC Vice President, Worldwide PC Tracker.
"Growth of Chrome, Bing, all-in-ones, ultraslim, convertibles, and touch systems similarly make PCs more compelling and competitive. Nevertheless, some of the gains are relatively small, and weakening drivers like Bing promotions and end of XP support transitions, cast a shadow of doubt on the strength of the market going into 2015."
Apple saw the biggest growth year-over-year, at 15.7 percent. The company sold almost 20 million Macs in 2014, good for 6.4 percent share. Lenovo stayed in first place with 59.23 million computers shipped (19.2 percent share) followed by HP at 56.85 million (18.4 percent share) and Dell with 41.66 million shipped (13.5 percent share). Acer was the lone 'Big 5' to see a decline YoY, down 1.6 percent to 24.1 million PCs shipped and 7.8 percent share.
See the list
here
: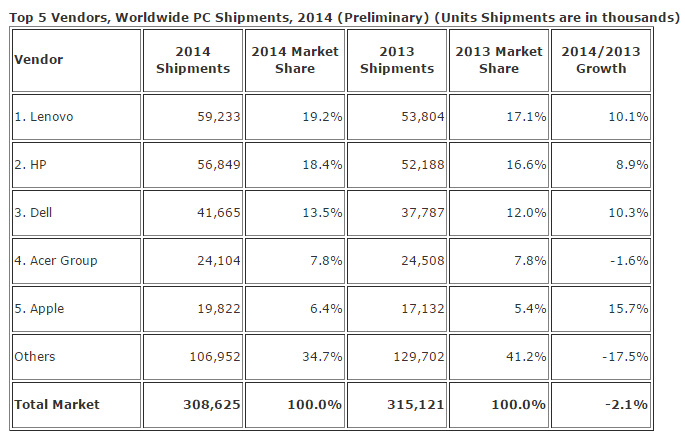 Written by: Andre Yoskowitz @ 19 Jan 2015 23:20