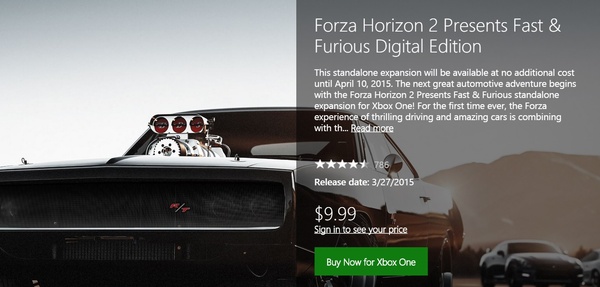 If you are a fan of the Fast and Furious series, the Forza series, or just a fan of free things, Microsoft has made your day.
Via the Xbox Live Marketplace, the standalone game "Forza Horizon 2: Presents Fast & Furious" is available for free from now until April 10th, even if you don't have a gold subscription.
Reads the bio:
"This standalone expansion will be available at no additional cost until April 10, 2015. The next great automotive adventure begins with the Forza Horizon 2 Presents Fast & Furious standalone expansion for Xbox One! For the first time ever, the Forza experience of thrilling driving and amazing cars is combining with the unstoppable Fast & Furious movie franchise to create an original adventure filled with adrenaline-fueled automotive action."
Even after the free download period, the game will be available to play forever without restrictions. I cannot speak for the 360 version but the Xbox One version was about 15GB when I downloaded it.
Check out the game here, which will show $9.99 until you log in:
Xbox Store
Written by: Andre Yoskowitz @ 29 Mar 2015 0:21