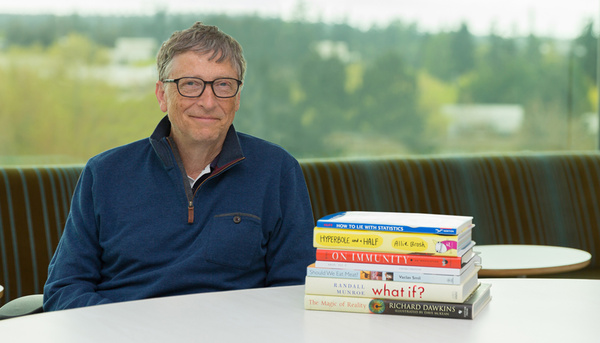 Randall Munroe, Richard Dawkins, Eula Biss and more make up Bill Gates' summer recommended reading list!
Bill reads a handful of books every year and reviews them, making recommendations based on his favorite books. This year he has strayed away from heavier topics like macroeconomics and finance, and is focusing on lighter alternatives that will be entertaining, informative and even humorous reads.
Among his recommendations this year is the noted "
What If?
" by
Randall Munroe
, which is a thoroughly entertaining read providing scientific answers to really bizarre questions. The book is funny to read, but still scientifically accurate and the reader can learn a bit about interesting topics (DNA, Ballistics, Ocean sciences etc).
Also from Munroe, Bill recommends "
XKCD
", which is a collection of material from the XKCD blog.
Evolutionary Biologist
Richard Dawkins
also gets a nod from Gates for his book "
The Magic of Reality
" which is intended for a younger audience but can still be read and enjoyed by adults. Dawkins is famed for his ability for making Scientific concepts understandable and appealing to the general public, but in recent years has been known more for his stance on religion. Gates doesn't endorse Dawkins' ideas on religion fully, but still credits him as one of the greatest science writers.
Gates also recommends "
Hyperbole and a Half
" by
Allie Brosh
, based on her
blog of the same title
. He predicts readers will get through the book in three hours tops, and will wish it went further.
"I must have interrupted Melinda a dozen times to read to her passages that made me laugh out loud,"
Gates reflected.
On more serious recommendations, Gates endorses "
How to Lie With Statistics
", by
Darrell Huff
, and "
Should We Eat Meat?
", by
Vaclav Smil
. The former was first published in 1954 but Gates finds it relevant to today due to the massive use of infographics on the Internet which may provide a distorted picture. The latter is probably the most serious of the books Gates recommends because it apparently takes a very thorough look at meat production and consumption in the world, and raises questions about how sustainable the system is. Gates provides his own personal view as part of his recommendation, which is essentially that people cannot be expected to give up meat in large numbers, but that he believes higher agricultural productivity can be achieved with technology and innovation, and also finds that the development of meat substitutes has promise.
Last but not least is "
On Immunity
", by
Eula Biss
, which examines the fears of those who are reluctant to vaccinate children. The book shows why vaccines are safe, work and are necessary for societal health, but she doesn't demonize people who are reluctant.
Here is a video from Gates Notes with more information on the recommendations.
Image Credit: www.gatesnotes.com
Written by: James Delahunty @ 19 May 2015 20:12