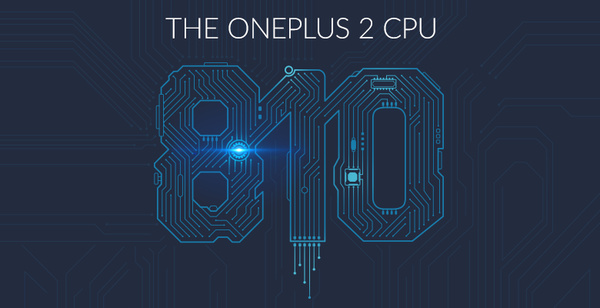 OnePlus has
announced
this week that their upcoming OnePlus 2 flagship will feature a Qualcomm Snapdragon 810 v2.1 processor that has actually been designed for the phone itself.
"Just like we did with the OnePlus One, our engineers debated endlessly over which CPU would be the perfect fit for the 2. While we played around with other options, we always came back to the 810. Its speed and ability to multitask while maintaining optimal battery performance remain unmatched amongst others in the industry,"
said Pete from One Plus.
The 810 v2.1 is a 64-bit chip with eight CPU cores and the device will have an Adreno 430 GPU allowing for streaming 4K.
Pete was also quick to discuss the overheating issues of the 810, which caused Samsung to ditch the CPU for its Galaxy S6 series.
"Although there have been reports that the 810 runs warmer than its predecessors, we assure you that we have taken all the necessary precautions and beyond to prevent this from occurring in the 2. We worked very closely with Qualcomm's engineers to integrate an improved version of the chipset (v2.1) in the OnePlus 2, and fine-tuned both hardware and software. The 2 will be 'cooler than ever,'"
he added.
The company also says their OxygenOS operating system has been optimized to flow perfectly with the processor.
What's coming next?
"The OnePlus 2 has been a long time in the making. To be quite honest, we're excited about this one, and we'll be revealing what's inside the 2 piece by piece. The 2 packs some outstanding specs that need to be powered by more than just any processor, and we couldn't be happier with our choice. The Snapdragon 810 v2.1 is just the beginning of something beautiful."
Written by: Andre Yoskowitz @ 18 Jun 2015 22:53