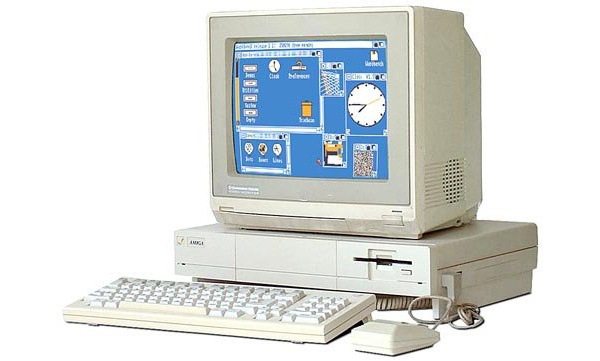 The Commodore Amiga 1000 (or A1000) was released on July 23, 1985, and is still considered to have been years ahead of its time.
It stood out from the crowd for several reasons. Firstly, it sported a color graphical user interface (4096 colors) at a time when Apple's Macintosh cost considerably more (~$1000 more or so) with a black and white display. Most Amiga 1000 units were sold with an RGB monitor, but it did feature a built-in composite video output to support other monitors.
AmigaOS was a truly multitask operating system too.
Under the hood, it packed a Motorola 68000 CPU (7.16MHz NTSC, 7.09MHz PAL) upgradable officially to a 68010 and to other CPUs via third party route. While the 68000 was common in 1985, the Amiga 1000 features three additional co-processors for multimedia operations.
The Amiga 1000 had 256 KB of Amiga Chip RAM, which was officially upgradable to 512 KB and further with third party upgrades. Further hardware upgrades were possible through the included 86-pin expansion port.
When the Amiga 500 model launched a couple of years after for a cut price of $700, it established Amiga as a popular gaming system, with sales of around 6 million units.
For our younger readers, here's a look at 100 Amiga games in 10 minutes. For our slightly older (OK.. wiser!) readers, enjoy the nostalgia!
Written by: James Delahunty @ 24 Jul 2015 1:58