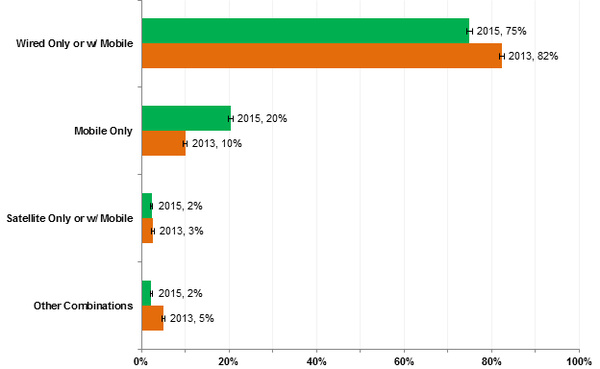 According to new data, Americans are curring back on home wired Internet, with many (especially poorer) families opting for just mobile web.
The data is from a sample of 53,000 Americans and the study was conducted by the U.S. Commerce Department.
Over 30 percent of households that earn less than $25,000 per year exclusively use mobile Internet, up from 16 percent just 3 years ago. Additionally, 18 percent of households that make $50,000 to $75,000 are now mobile-only, 17 percent of households making $75,000 to $100,000 are mobile-only and even 15 percent of households earning over $100,000 have made the switch.
While it makes the most sense to see lower-income families sticking to just one form of paid Internet, the higher income families making the consciensous choice to go mobile-only is certainly interesting.
Check out the full study here:
NTIA
Written by: Andre Yoskowitz @ 22 Apr 2016 12:43